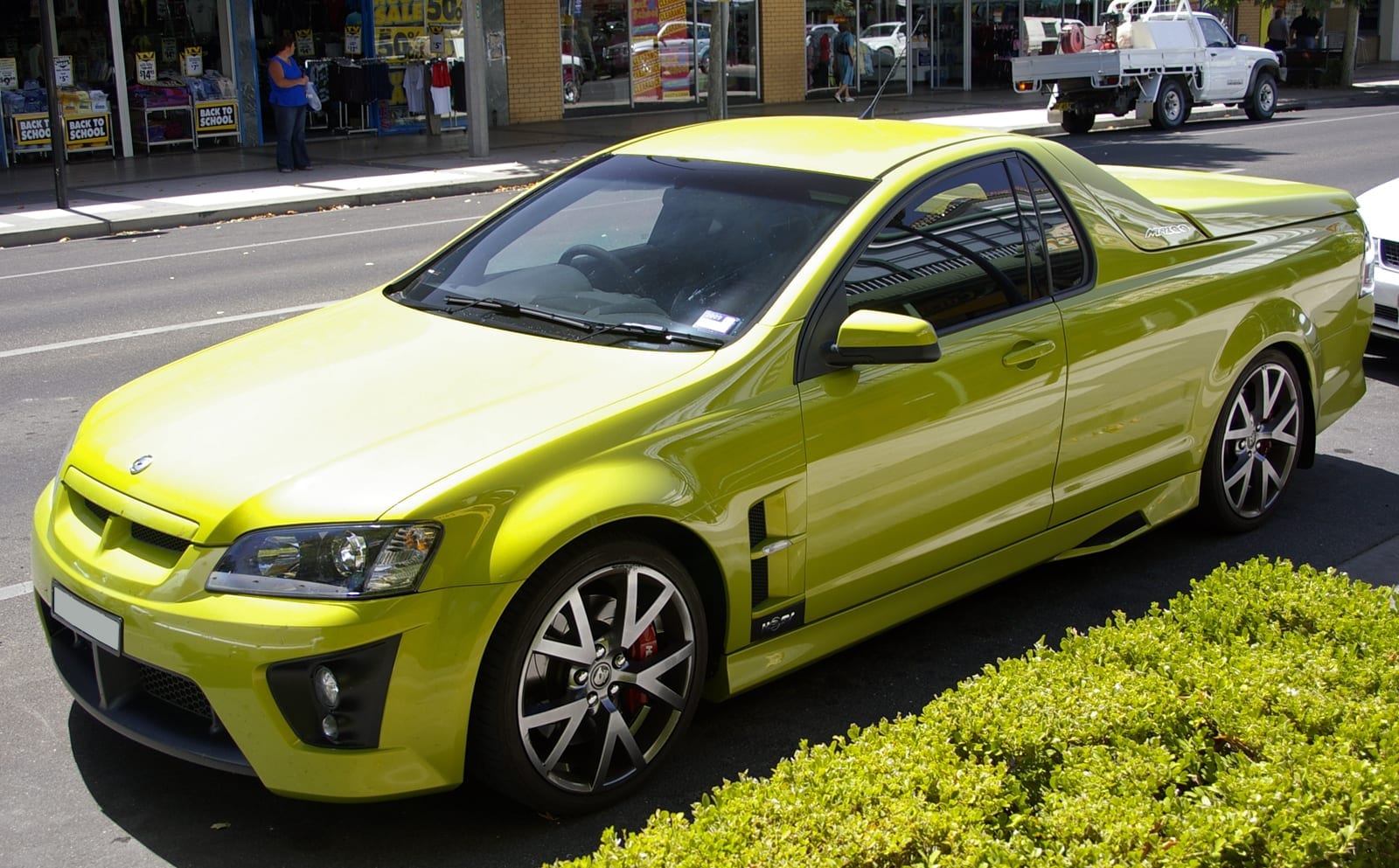 While the world can always be certain of death and taxes, for Aussies it's one more thing. Like backyard cricket in summer time and firing up a smoking barbecue, there are few more reassuringly Aussie icons we hold fast to such as an annual race of thoroughbred horses and a poky-looking rotary sculpture for flapping dry laundry in every 60's backyard. Then there's the good old 'ute' of course.
Ute Finance For Our Aussie Icon
The Aussie Ute, aka 'the Aussie bloke's quintessential style accessory', an integral icon on our Australian landscape, has long been the vehicle of choice for both tradespeople and farmers. If you don't live in Oz and aren't sure what a 'ute' is, it's an abbreviation for 'utility' or 'coupe utility', a passenger vehicle with a cargo tray in its rear which is popularly called a truck or 'pick-up' in America and many other parts of the world.
The term 'ute' is used perhaps only in Australia and New Zealand. Ford claimed to be the first to produce an Aussie ute following a legendary story of how a farmer's wife from Geelong, Victoria, apparently wrote to them requesting for a special vehicle that could be versatile enough to take her to church on Sundays and still be able to ferry their pigs to market on Mondays. The result was a brilliant design of the 'coupe utility' released in 1934. Holden released a 'utility' model of this in 1951 based on the 48-215 sedan. Hence started Australia's long-standing tradition and cult culture for utes.
Life in the bush in (outback) Australia still warrants the great old ute as the vehicle of choice, incomplete of course without a couple of handsome-looking cattle dogs, kelpies or border collies tethered on its very rear. Wait, actually hasn't it become also a picture of regular life in some suburban carparks and in the city itself on our roads today? These days the ute is still very much an accessory for the modern Aussie macho man, regardless of his profession sometimes. I suspect Australian V8 Utes (a racing series based on slightly modified Holden and Ford utes) could be responsible for revving up the ute's popular following as a masculine symbol of optimal testosterone power. What's more, it could do double duty on a beautiful starry night if he sets up a little evening picnic, tosses in a rug with cushions on the rear cabin and voila! The ute turns into a 'convertible couch' for his 'sheila' and him on a romantic stargazing date.
There is no question the ute is a useful utility powerhouse vehicle. Versatile enough for everything from carrying an old mattress or vintage wardrobe you purchased on Gumtree to your power tools to transporting your beloved pets. Four-wheel drive utes like the Toyota Land Cruiser are so useful and convenient that they are commonly used by emergency services for fire fighting and road accident response units. It is not uncommon to see farmers using multiple tens of 'fire units' combating fierce bushfires in the form of 4WD utes substituting as highly mobile fire trucks.
There's even a new range of 'family-friendly' utes that double up not only as a workhorse to lug boats, caravans and trailers up to 3500 kg, many are 4WD vehicles that can battle rugged mountains and cross rivers. The VW Amarok, Ford Ranger, Mazda BT-50 and Holden Colorado are fine examples of these. With fierce competition between manufacturers, the cost to obtain car finance for one of these versatile vehicles has become significantly more affordable.
Ute Musters & Summernauts
There is not denying the huge cultural impact of utes especially in rural areas, the origins of regular events known as 'Ute Musters'. Romanticised by country musicians like Lee Kernaghan who wrote popular hits like 'Boys From The Bush' and 'The Outback Club', these ute-promoting events are also a country music fest to congregate large numbers of proud ute owners who participate in activities such as competitions and fundraising runs for local causes. Traditionally, Bachelor and Spinster Balls are held to raise money for local charities in the region. Often combined with other bigger events like a rodeo, agricultural show or music fest, ute musters also promote ute pride by hosting 'Beaut Ute' competitions and ute driving competitions.
The joy of owning a ute is celebrated annually in Australia with the well-known Deniliquin Ute Muster, which is probably the largest event of its kind in the whole wide world! Today the Deniliquin Ute Muster and Play On The Plains Festival is a definitely-must-go event for any true blue dinkum Aussie ute owner. Even one of our best-loved Australian idols Guy Sebastian had gone along to sing his heart out at one of these fairs.
Let's get one thing straight though—a ute muster is not to be confused with the other car festival held in Canberra that can rival its popularity, the Summernats (short for Summer Nationals). Summernats is an annual event that not only fuels the ACT economy by tens of millions, it is a huge annual tourist attraction featuring street machines like hot rods with airbrushed artwork, restored or modified vehicles at a four-day event complete with prizes to be won, burnouts, car parades around tracks complete with fireworks.
Perhaps one thing the two festivals share in recent years had been something to fizzle out the party atmosphere. Car buff gatherings like the Summernats have revealed buyers are dancing away from locally-produced cars and utes along with the shutters rolling down on Australian car manufacturing. In fact, only 20 percent of cars entered in this year's Summernauts were Holden while ten percent had been locally-made Fords. A survey by Drive highlighted that these cars have lost their lustre among buyers due to competitive imports.
Demise of XR8 ute and the new wave of imports
In the case of utes, Ford confirmed the demise of the XR8 ute in late 2014 with the final overhaul of Falcon vehicles prior to the bowing out of their local manufacturing operations.
The extinction of the V8-powered Ford falcon utility is a big blow to all true blue Aussie-made Ford ute enthusiasts. It is after all the special ute that has a traceable lineage all the way back to the ute said to have begun its category—the original Ford 'coupe ute' V8, developed by designer Lew Bandt in Geelong and first sold in 1934. All we're going to see is a sedan version of the XR8 from now on since that's the more viable market for Ford to focus on rather than its declining ute market.
Import Ute Finance
It does seem that imported utes have been the aggressive overtakers in the Australian ute market. Mitsubishi Motors revealed a sharp jump for a number of its ute models such as the Triton ute which is hugely popular with tradespeople. So popular in fact that its steadily climbing sales had been a large factor in helping Mitsubishi regain profitability since it shut down its Adelaide manufacturing plants in 2008.
Hyundai, another popular import, is poised to overtake Mazda and Holden once the just-unveiled Hyundai Santa Cruz ute goes into production for the Australian market. It knows just how to pick on those its own size, which is the Korean ute's very winning concept. The Hyundai Santa Cruz ute sits between a Toyota Hilux and traditional Falcon or Commodore ute in terms of sizing. It has now the added chance of capitalising on the gap left behind by the vanishing act of Aussie-manufactured utes within the next few years.
Ensure your ute meets safety ratings
Will imported utes be the way to go? Not unless it's safe if you ask me. Crash-test-safe and health-safe, that is. The reputation of Chinese utes for example is enough to freak one out like when they first made the headlines for all the wrong reasons: having recalls for asbestos-tainted car engine parts in their utes, SUVs and passenger cars. How terribly 'un-Australian' as we would say here.
Thankfully, the Volkswagen Amarok was the first ute to be awarded a five-star safety rating in Australia and helped spur safety ratings for utes. By 2011, several other brands met the same mark including the Ford Ranger, Holden Colorado, Mazda BT-50 and some Toyota HiLux and Isuszu D-Max models.
Better safe than sorry especially when you're investing in a prized 'tool shed on wheels' like what author John Bryant (who also started Bluey's Ute World, Australia's first ute-gear retail stores in Sydney and Melbourne in 1994) calls ute ownership. For many, a ute is more than just a vehicle. It is a love affair, he said. Almost every Aussie must have a 'you beaut' ute childhood memory, if you're grown up enough! And thanks to him, we can now reminisce 'Great Australian Ute Stories' after John Bryant's nostalgic book release.
Going hunting for the right ute, or utility vehicle? Let us at 360 Finance help you with getting the best and most competitive financing option to help you own your 'beaUTE' today.