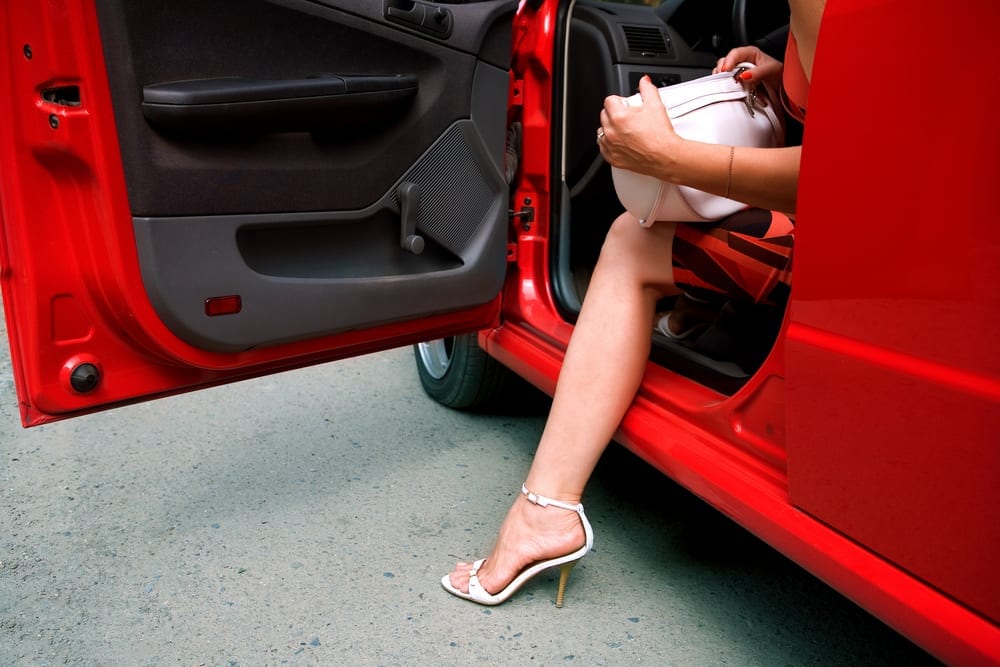 Cars. The New Handbag? – Fashionable Cars
When you see a tabloid headline like 'Stella McCartney Has Designs On the New Jaguar XE' , you could be forgiven for thinking the talented fashion designer wanted a new car as British and as classic as her father's Beatle lineage. Only that you should have taken it literally. She most definitely has her designs set on the new Jag all right, what with her new superhero-comicstrip-inspired prints plastered all over the all-new Jaguar XE. These boldly coloured 'superhero themed' design prints are featured on clutch bags, printed totes and shoulder bags from her exuberant bold and colourful new Pre-Spring 2015 handbag collection, popularised by actresses Liv Tyler and Maggie Gyllenhaal. Looking right out of a Marvel-comics montage, she claims her unconventional choice was sparked by a desire to 'bring empowerment' to the new Jag. I'm not so sure we'll all agree but it definitely isn't the first time a car manufacturer has experimented with collaborating with a fashion designer to rock up brow-raising interest and publicity for their brand.
In 2012, Land-Rover wooed 'Posh Spice' Victoria Beckham to revamp the design of their Range Rover Evoque and launch their limited edition 'baby' off-roader bearing her debut celebrity name, Posh Spice. Mrs Beckham needs no introduction around the world for not only being the wife of stylish international soccer star David Beckham, she is a star in her own right. Her accolades, besides just being the most popular member of the former all-girl pop group, Spice Girls, include her own couture designs for privileged purveyors of dresses to the tune of 1,000 British pounds and above. In fact she's just added another reason she can justify the price tag of double the cost of the standard Evoque at 80,000 pounds; for being named Entrepreneur of the Year 2014 with her successful design company which has a cool turnover of 30 million pounds. Oh, by the way some 200 lucky purchasers of the limited-edition Posh Spice Evoque range will also get to boast a personally signed, hand-stitched Victoria Beckham designer purse, plus bespoke luggage as a complete limited edition set.
How every fashionista understands the beauty of exclusivity and the lure of being first in line to show off the latest trendsetting looks for each new fashion season. Ditto car makers, yes? The most prominent marriage between a luxe car brand and the fashion catwalk must be the glamorous Mercedes-Benz Fashion Week, which is a series of notable international fashion weeks sponsored by the luxury automaker, held in New York, Berlin, Australia, Russia, Istanbul and Mexico.
Fashionable Cars For The Fashion Conscious
Beyond sponsorship alone at fashion circuits, car makers seem to have naturally evolved to include in their car design teams—fashion designers from the catwalks. The same big name designers who have launched haute couture then go on to justify their expensive lines of perfumes, lipsticks and purses, are now hired to design our cars. Critics such as pure auto lovers who care less about fashion than top notch performance may balk at this new trend. Lest we forget, these same style-makers who've dressed celebrities at the red carpets from film premieres to awards, may just be quite perfect for the job of designing cars. Won't you agree that they are the masters of visual colour, texture, proportion and fabrics and trims? All crucial elements in auto design. Plus it isn't something fashionable only today, it already began in 1976 when General Motors collaborated with Cartier, Bill Blass, Pucci and Givenchy for its signature Lincoln-Mercury Mark V designer Series.
Since then, like endless news feeds of hash-tagged fashion fails and statements on social media, there's no stopping the craze and amazing creations of fashion designer cars today. Designer cars are a savvy crossover for luxury fashion houses to market themselves to car consumers who aren't already swept up in their loyalty to them. If they are, then it's just another natural means for the fashion-savvy consumer to embody the style of their many favourite designers in their fashionable cars.
Perhaps the highest point of such an inter-relationship was when Versace teamed up with Lamborghini to create one of the most striking and rare Lamborghini Murcielago LP640 roadsters ever, at the price tag of $1m. Only two were ever made in 2006; one blue and the other, white.
Not to be outdone, Bugatti together with French luxury house Hermès created one of the most coveted special edition cars, the Bugatti Veyron Fbg par Hermès. The interiors were covered in bull calfskin in Hermès workshops in Paris in 2008.
Seeing that we're rolling out the who's who on the catwalks of 'souped up sports cars', did I mention Ferrari yet? Well the same year Gucci celebrated its 90th birthday, top 10 Italian car maker Fiat, who also owns Ferrari and Maserati sold its 500,000th Fiat 500, a record within 3 years. For the milestone Fiat partnered with Gucci and launched the special edition Fiat 500 Gucci on the first day of the Milan Fashion Week. Available in black or white only, the most striking design feature had naturally been Gucci's signature green-red-green striped band along the sides of the car body and interior upholstery which will complement any classic Gucci accessories like its bags and belts. Fiat-Chrysler Australia reserved just above a hundred models of these available in both hatchback and cabrio body types, retailing for a very affordable A$23,200.
As for Maserati, they hired Ermenegildo Zegna so that everything from their car's door panels, seats and roof lining are beautifully textured in warm hues that are so iconic of the luxurious man's fashion label. It probably smells of Daniel Craig too. Speaking of that, I wonder why haven't designers sneaked in their perfume lines as complementary car fragrances yet? I mean, why not go all the way with designer touches. Louis Vuitton, like Posh Spice did with the Evoque, already created an all-exclusive tailored made luxury bag line to match the interiors of the the BMW i8 hybrid car.
First the matching luggage, then we could have matching fashion to go with the cars. Rolls Royce joined forces with Lebanese fashion designer Walid Atallah in 2012 to launch two bespoke models, the 'Phantom Rayan' and 'Phantom Coupe Rayan'. Its muse was the 2009 mini series inspired by The Phantom comics starring actor Ryan Carnes, conceptualised by Abu Dhabi Motors (the sole dealer of Rolls Royce cars in Abu Dhabi). And who is Walid Attallah? Only perhaps the most renowned designer in that region who dresses the best frocked celebrities in haute couture that can cost over a million each from its real diamond trimmings. Which is why a whole line of Walid Atallah 'Cashmere and Admiral' dresses and jewellery were also launched at the premiere of the two Phantom Rolls Royce models (costing $2.6m each) to embody the luxury of the Rolls Royce brand. Pretty befitting considering the limited Phantom vehicles cost only about two or three of his dresses.
The world of fashion designers colliding with car makers is not just all about glitz, glamour and reckless profiteering. Often the special edition designs are collaborations for a good cause, such as charity auctions. In 2001 everyone marvelled at designer Paul Smith's rainbow candy stripes collection applied to the Jaguar X-type (an otherwise dreary-looking vehicle), which became a one-off auction car.
MINI Cooper, the co-sponsor for the past decade of Life Ball, a charity to raise money for fighting Aids, auctioned off a MINI Cooper Countryman (new 4-door Mini) customised by Calvin Klein, at $40,000 euros. In 2010, MINI commissioned Kenneth Cole, CK and Diane Von Furstenberg to wave their individual designer touch on each of the 3 one-of-a-kind MINIs for similar causes. Kenneth Cole's completely stud-covered MINI rocked the fashion world and fashion paparazzi sparking controversy that his artistic interpretation of the MINI in studs, silver and black leather interiors was a tad 'kinky'. It is my personal opinion that Cole may have just made it the first MINI that would've best launched the best-selling novel by E L James, 50 Shades of Grey and I wonder if it would have been a great product placement for MINI in the upcoming movie version of the book.
However the fashion police were probably too busy making other arrests with other car maker-design partnerships such as between Jeremy Scott and Daimler AG. Jeremy who? Karl Lagerfeld famously named Jeremy Scott, now the creative director of Moschino as the only fit successor to Chanel if he left. As talented as Scott is, he who has designed costumes for Lady Gaga and Madonna, designed the 'winged' Smart car, a derivative of the hybrid vehicle that did not quite fly off the showrooms, but was most noted for its 'feathered wings'. Scott thought his application of striped 'wings' on the Smart symbolised the ultimate freedom and weightless mobility in a car. If you own a pair of Scott's Adidas winged shoes, you might be just the target customer Daimler AG had in mind. So what seems to be the problem of the lacklustre Smart? Maybe the same one I was thinking of when I saw one of Jeremy Scott's cute Shrek sweaters retailing for US$350.
In that case, how do auto brands make their designer cars sexy to us? Buying fashion is like buying lingerie to preen ourselves. Make sure it's stunning for the right reasons.
For car finance shopping, it's no different. Know what you are really getting for your investment. Allow us at 360 Finance to assist you in curating the right elements for your vehicle finance package. Just like the stylish vehicle of your choice, it's the ultimate power dressing.