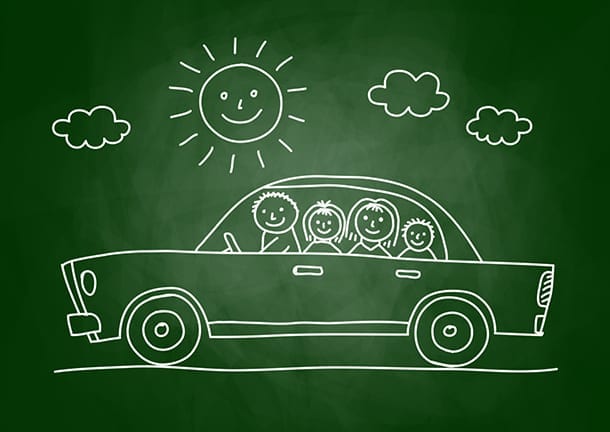 Guide to buying the best car for your family – The 3 S's
Guide to buying the best car for your family – the 3 S's
Are you looking for a car that can safely accommodate your growing family?
Not sure what features you need to consider?
Here is 360 Finance's guide to finding your next family car.
SAFETY
With such precious cargo on board, the most important consideration is the safety rating of the car. Once you have a few cars in mind, it is a good idea to head over to the Australasian New Car Assessment Program (ANCAP) website (http://www.ancap.com.au) for an independent review of the safety of the vehicles you have in mind. A star rating from 1 – 5 is given for each vehicle based on the performance of the car in crash tests run in specialised laboratories. All cars are subjected to the same tests and given points according to set criteria. 5 stars is the best rating for a car with ANCAP noting that "occupants have twice the chance of being killed or seriously injured in an ANCAP 1 Star rated vehicle compared to an ANCAP 5 Star rated vehicle".
SPACE
Once you know you're family is safe, you'll then be thinking about SPACE!! With Australian law now requiring all children under 7 to be safely seated in a restraint suited to their height and age, it can be particularly challenging to find a car that can safely accommodate three car seats. First, consider how many of your car seats will be booster seats that use an adult seat belt. This is important as it can be difficult to get between seats to buckle and unbuckle boosters. You also need to ensure that if you plan on putting a booster seat in the centre position, the seat belt is a lap sash as a lap belt is not safe to use with a booster seat. Second, plan how many car seats will be rear facing vs forward facing as you'll need to consider if the space between the front and rear seats will accommodate a rear facing car seat. We recommend trying all your seats in the car you have in mind if possible. Otherwise, measure the rear seat length and distance between the rear and front seats when the front seats are as far back as possible. This will ensure that your car will fit all car seat configurations you may need as your family grows.
STORAGE
Finally, kids mean stuff. Lots of stuff! Prams, bags, toys, bikes, scooters, spare clothes, lots of groceries etc. etc. All this stuff has to fit somewhere and preferably not beneath their feet for them to stomp on! So don't forget to check out the storage capacity of the car. Not only is boot space important to fit the big bulky items like prams and bikes, but also check out the internal storage solutions of the car.
You may wish to look out for;
cup holders to hold little snack boxes and water bottles
under seat storage for the first aid kit and valuables when leaving the car for family adventures
behind the seat pockets for hiding toys and books
rear underfloor storage for dirty shoes, sunscreen and picnic rugs
place for mobile phone which will now be permanently pumping out great tunes from "The Wiggles" or "Playschool"
rear seat folding capacity as split fold designs allow for more storage for long or bulky items or those family camping trips when you need as much space as you can get
With these 3 S's in mind, you're sure to find a car that you and your family will be happy to travel in.
If you're still looking for ideas, watch this space for 360 Finance's Top 5 Cars for Families coming soon.
Expecting a new addition to your family and needing to upgrade your car? Or frustrated with the current safety, space and storage in your family vehicle? 360 Finance understands families and can help you find the car you need with the most affordable car finance repayments.