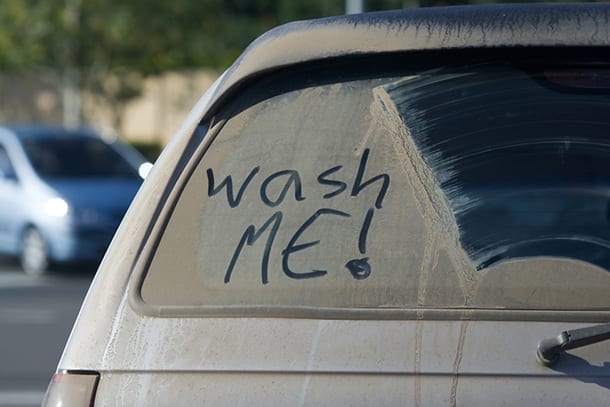 Has the time come for you to part with your current vehicle? As our tech guy Andy is weighing up the best option for farewelling his beloved Holden Barina, we thought we'd give him some handy hints for getting the best price possible.
Exterior
The outside of the car is what buyers see first so it is important to give a good impression! Give your car a good wash and polish. It is often worth investing in a professional detail to get your car looking in tip top condition. Tidy up any chips and scratches with a paint touch up kit or seek out the service of a professional paint repairer. You can get the windows streak free and shiny by simply wiping down with water or window cleaner and some dry newspaper. It is best to leave the windows to air dry to avoid blotches or marks. And finally don't forget to clean out the engine bay. Although many of us don't know what we're looking for exactly, opening the bonnet and have a sticky beak is usually a must do for potential buyers.
Interior
Once the outside is looking good, it's time to work on the interior. Most important, remove any personal items from the vehicle not forgetting the glove box and seat pockets. Thoroughly vacuum the seats and floor paying close attention to the door openings, under the driving pedals and inside cup holders or other crevices. It is a good idea to use a soft firm brush such as a boot brush to bring up any dirt, sand or mud from within the carpet fibres before vacuuming. If you notice any obvious stains on the upholstery, consider a professional upholstery service or steam clean. If your car has any unpleasant and lingering smells it is important to neutralize the odour. Smell actually plays a key role in human emotions, memory, associations and decision making so if you're car smells like an old pair of gym shoes or worse, others will be less likely to buy. Leave some baking soda in a small dish or sprinkle on the floor and seats and leave at least overnight. You will find baking soda is easily vacuumed up and leaves the car odour free. If something more powerful is needed, odour neutralisers can be purchased at car accessory retailers however avoid strong scented car fresheners as these tend to mask the odour rather than deodorize. Also remember to clean out the boot thoroughly, looking out for leaves and sticks around the hinges. If your car has a jack and tool kit, make sure it is clean and all parts accounted for.
Extras
After all that cleaning, your car is almost ready for that for sale sign. However potential buyers will also be willing to spend a bit more for a car that has been carefully maintained. So if you have evidence of the service history and parts records, it is worthwhile gathering this paperwork together and keeping it close at hand. It is also useful to make sure the vehicle manual is in the glove box and in good condition. Ensuring simple maintenance jobs are up to date such as changing the oil, topping up the coolant and power steering fluid and filling the windscreen washer reservoir will also help to assure others that your car has been well looked after. Now your car is ready to find a new home.
If the new buyer needs to organise some competitive car finance to assist with the purchase of your car, make sure you direct them to the team at 360 Finance, so all your efforts getting it ready for sale are not wasted…. Now that it is looking so good, don't be surprised if you find yourself wondering why you're selling your used car – but remember that something even better is waiting for you!