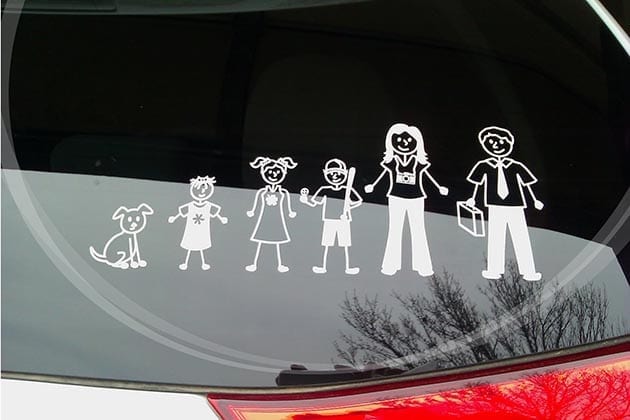 Australia's car market is overflowing with family car options and it can be an overwhelming process to choose the right car and the right car finance for your needs. We know you want an affordable car that your family will be happy in every day, so we have selected our Top 5 family cars based on price, practicality, and included features. As safety is likely your first priority for the family drive, all of our cars have a 5 star ANCAP safety rating.
Mazda 6 Wagon
The first family car to make this list is the Mazda 6 Wagon. If you need lots of space, but not keen on the cost of running a large car, this mid-sized wagon gets the vote. Hop inside the Mazda 6 and you'll be surprised at the quality and design of the interior. You'll immediately be drawn to the uncluttered centre dash featuring satellite navigation and automatic air-conditioning. The trim is classy and well finished with a European feel.
Boasting Mazda's SKYACTIV technology, the drive of the Mazda is smooth and engaging with excellent handling capabilities. It's reasonably agile around corners and never short on power. The SKYACTIV technology also greatly improves fuel efficiency allowing for a more affordable every day drive in this size vehicle. It is also packed with an impressive list of safety features including reverse camera, Emergency Stop Signals, Emergency Brake Assist, Dynamic Stability Control, Electronic Brake-force and Blind Spot Monitoring. If you're not sure what all of these are, follow our page for more updates coming, but in the meantime rest assured you're equipped with some of the best technology to keep your family safe.
Overall, the Mazda 6 is a great family car option that you won't be disappointed with.
Toyota Camry Hybrid
Feel like you're running a taxi service with trips to soccer, music, swimming, school, and weekend drives? The Toyota Camry is our most fuel efficient family car that allows you to affordably get to all the drop offs and pickups your week entails. In fact, this hybrid vehicle performs best in stop-start driving circumstances averaging around a low 5.2L/100km in fuel consumption. The drive from the Camry is comfortable, as is expected with a Toyota, with a fair amount of go for a hybrid engine.
The interior is sleek and clean with unbelievably comfortable front seats. The rear passengers are not forgotten with plenty of leg room and storage space. Unfortunately, the hybrid boot space is limited by the electric battery stored behind the rear seats and prevents the single rear seat from folding flat. However you still have the larger '60' section of the rear seat to fold forward and a flat boot floor to work with.
The Camry's popularity in Australia is still going strong, holding out as the favourite mid-size vehicle for 20 years. Add to this the affordability of a hybrid engine and you've got a reliable family car that won't break the bank.
Subaru Forester
Looking for an affordable car that can take you on any family adventure? The Forester is definitely worth considering.
This SUV ticks all the boxes for space and practicality. The front and rear seat hip-heights are high which is engineering talk for how high you're sitting within the car and off the ground. This is important as more height generally means more leg room. In the Forester, this means that the driver and all passengers are well positioned in the vehicle with plenty of space in front. The driver also has excellent visibility from within the vehicle with comfortable seating for long trips. Handling is much more "car like" than other SUV's leaving you feeling confident and in control for city driving with the capability for soft road adventures.
The Forester delivers a lot of bang for your buck with loads of extras in entry level models such as reverse camera, Bluetooth connectivity, and theft detection software. The reverse camera is particularly handy in this instance if you want to hook up your caravan or trailer for weekends away. Plenty of cabin and boot space is available for loading up with camping gear not to mention all of the everyday "stuff" like prams, bikes, and school bags.
If you're looking for a reasonably priced off roader that can comfortably do the school run, this is a great choice for your family.
Honda Odyssey
People movers have come a long way in styling and comfort over the years and the Honda Odyssey has always been ahead of the pack. If you need space and seats this car is for you and is one of the few eight seaters in the current market with a 5 star safety rating (outdoing both the Kia Carnival and Hyundai iMax).
Once inside, you can't help but notice the size with plenty of leg, head and should room throughout the vehicle. You're immediately drawn to the centre 7" touchscreen display which controls communication, audio, and 360' front, side and rear cameras. Steering wheel mounted controls are also standard giving the driver easier control over interior environment.
Honda has released the Odyssey with sliding side doors to the second and third row seating, greatly improving the ease of entry for passengers. The second row easily slides sideways to allow quick access to the third row and the low floor height means getting kids in and out of car seats is a lot easier. Almost magically, the third row folds right into the floor allowing for flat storage in the rear. You may be wondering where the spare is, well surprisingly you'll find it under the front seats!
The Honda Odyssey gives you style and safety which cannot be met by other people movers on the market and offers the most seats of all of our family cars.
Landrover Discovery 4
Possibly the ultimate family car is the Landrover Discovery 4. Not only do you have a seat for everyone, you can go anywhere your heart desires. The Disco 4 will delight you with a luxurious interior and defy all the rules about where cars are supposed to go.
With outstanding off-road capabilities and superior technology, touring the Australian landscape just got a whole lot more enjoyable. Slippery mud tracks, rocky mountain terrain or soft beaches will be no challenge for this 4wd as the innovative Terrain Response technology ensures that it is consistently recognised as the best 4wd on the market. Towing a trailer or caravan will be a breeze for the well powered engine and the Trailer Stability Assist means you can confidently explore every beach and hideaway with all the comforts of home.
Even if your family adventures tend not to go off the beaten track, the Landrover Discovery still has a lot to offer. Inside you will find seven full sized adult seats with each row slightly raised so no one misses out on the landscape. Although leg room is somewhat limited in the third row, shoulder and head height remain the best in this class. This third row also folds flat into the floor allowing for versatility in seating and storage capacity. You absolutely can't beat that luxury car feeling the Discovery 4 offers with superior comfort and high quality trimmings.
As we said, the Discovery 4 is the ultimate family car with no limits.
That rounds out the 360 Finance Top 5 Family Cars. Each car has been selected as offering a unique set of features with budget, functionality and the ease of financing the vehicle in mind. So, if you've been inspired to seek out a better every day drive for your family, have a chat to one of our friendly staff or try our free car finder service to track down one of these great cars today.