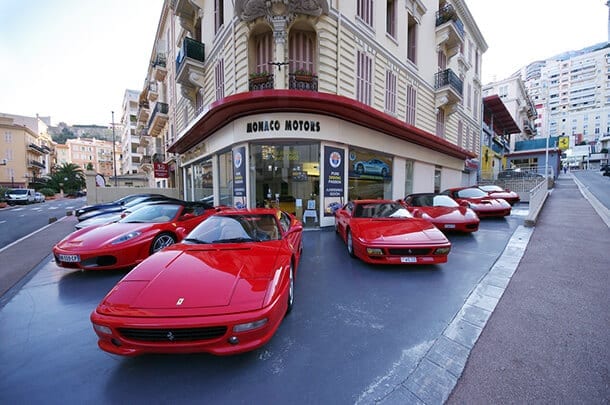 What Drives The Rich? | Luxury Car Loans
"You don't have to shout to be noticed." The ad copy from the Volvo V40 R-design print ad was actually referring to their local Swedes—"quiet folks', Volvo says, "who don't feel the need to be loud. We simply let our achievements do the talking". Not at all far from my assessment of some of our Who's Who of Australia's richest cohort. What cars will one acquire when the more budget friendly approach of obtaining car finance is not required? Well, don't hold your breath for the usual Ferrari or Bugatti line up. Though many of them may be car buffs, not every multi-millionaire or billionaire necessarily wants to fall in line with every rich-lister like James Packer to turn heads with what they drive. A real surprise to mere mortals but many of Australia's highest income earners seem to have a modest appetite in terms of their wheels, at least in what they choose to show the world outside their garages.
Once-a-truck-driver-turned-billionaire Lindsay Fox, who owns a membership amongst Australia's richest, still prefers his USA-imported GMC truck. This is a man who is ranked 9th on Forbes Australia's 50 richest people. There's more. Ranked at #10 on Forbes, Western Australia's mining magnate John Andrew Henry Forrest nicknamed "Twiggy" of the Fortescue Metals Group (FMG), with all of his net worth of A$5.86 billion as of 2014, still drives his Mercedes convertible he called "old enough to vote" and a regular mortal's Toyota LandCruiser, which he finds practical for towing his horse float. No sighting of Twiggy living it up at all as he and his wife Nicola were the first Aussies to pledge half of their wealth to charity whilst living, including him being the substantial supporter and Ambassador to the Australian Indigenous Education Foundation. Half of A$5.86 billion is still plenty of spare change for any car on this planet, I'd say. Such rare modesty is laudable and gives us hope about mankind, doesn't it.
There's no crime in driving a posh vehicle especially when one has the means to, of course. In fact, it's what is almost expected amongst the rich and famous. Lest you yawn at the bland tastebuds of our richest where it comes to their choice of a daily ride—quick relief comes as swiftly as Gina Rinehart's coffers add up by the millisecond. The heiress of Hancock Prospecting, most know as our 'nearest and dearest' Australia's richest woman—erm, make that 'in the world', drives around in no less than a Rolls Royce. I suspect that one she gets chauffeured in and out of for daily work commuting. When she just needs to clear her head (all that headache brought on by the federal government with their talk and threats to tax the mining industry) with a short drive she takes any pick from her luxury fleet of Mercedes Benz and the like. Oh, and to get somewhere quick enough to sign another billion dollar deal she would be taking her private jet. After all they can hardly make a dent in one whose Perth mansion alone is valued at US$25 million and whose total net worth is to the tune of US$20 billion and growing.
Though paler in comparison to Ms Rinehart's 20 big ones, media mogul James Packer is nevertheless still worth A$3 billion and has more added to his coffers daily than most people will see in their lifetime. Packer is another rich-lister who loves to splurge on his fancy toys and wheels. The media mogul had reportedly once bought a yacht so highly-priced that the yacht company presented him with an Aston Martin in lieu of a free set of steak knives, ha. Mr Packer apparently was very pleased, being a big fan of British sports cars. However word has it that Packer has since joined the Bentley camp, trading in his Aston Martin DB9 for a "near-new" Bentley Continental GT. The best I've done is trade my iPhone 5 for the iPhone 6 Plus. Hurrah for normalcy. I like to think I sleep pretty well at night without fear of my billions getting stolen from under my nose or fear of the butler suffocating me in my sleep with the help as his lookout.
For the rich who have such unimaginably massive wealth, their luxury jets, fleets of cars and boats seem justified by the size of their purse. Yet even as these are being sneered as symbols of status and flaunts of one's fortune—it's not as if some entrepreneurs have not earned their right to kick back a little to enjoy their hard-earned fruits. One has to take their hat off to Frank Lowy aka 'Lord of the Malls', founder of the Westfield retail empire and one of the world's richest and most successful retail developers, who, after eight tumultuous decades of life, should rightfully be enjoying the fruits of his labour and sipping Pina Colada aboard his luxury US$80 million yacht, Ilona.
There's nothing that lies within Frank Lowy's enormous property empire, stretching from his hometown of Sydney to the United States and Britain (in its fiftieth year as the world's largest listed property group in terms of market capitalisation) that indicates a long journey of hardship behind its success story. As a young Hungarian forced to survive on the war-torn streets of Budapest, hiding from the Nazis, scrounging food, living on his wits trying to protect his family, Frank Lowy had his fair share of suffering most Aussies would not be able to imagine today. While most Australians have shopped at their local Westfield mall at least once yet few have known of Frank Lowy's rags-to-riches past. When he entered Australia as a refugee, he began his story of toil to success working seven days a week delivering groceries to shops around Sydney. Today he has earned every right to his success in becoming Australia's pride of retail with 119 shopping centres worth AU$70 billion along with his yacht and luxury wheels.
Though what Mr Lowy drives isn't public knowledge, Forbes has published a most interesting list of the line up of luxury cars loved by the richest:
Mercedes Benz E350 Bluetec—a touch of class, and great diesel fuel economy for the rich and frugal.
Lexus RX350—still the best-selling Lexus.
BMW 5 Series—still the status symbol for many who like to flaunt it
BMW 3 Series—entry level to show you've just arrived.
Volkswagen Jetta —it's been called the compact sedan for the upwardly mobile. Shocking!
Honda CRV—Another shocker. Really? Er, how did one of my ex-cars make it to the Forbes list is still a mystery. Apparently not all rich people drive luxury cars, as testified by Twiggy Forrest and Lindsay Fox! In Australia, they're not alone in this category. Graeme Wood, founder of Wotif.com and estimated by BRW to be worth A$227 million, drives a 1994 Falcon ute and hires a Hyundai Getz when he travels interstate. Wood claims it all boils down to plain old practicality. His 'poverty pack' ute is great as it's inexpensive and hauls all his sailing paraphernalia. The best thing is "you won't notice the parking lot damage."
The frugal attitude of the rich is probably as infectious as their wealth's tendency to accumulate more wealth. This mindset of thrift as a virtue seems paralleled by a similar list compiled by Forbes years ago that revealed how Ikea founder and number five on the 2009 Forbes billionaires list, Ingvar Kamprad, shocked the world when his choice of car had been a humble 1993 Volvo 240GL. Not to be beaten, billionaire investor Warren Buffett was seen cruising down town in his 2001 Lincoln Town Car (Sydney Morning Herald, June 2009).
This is from the same man with the famous 'money-saving' tip and quote of the century: "If you buy things you don't need, you will soon sell things you need. – Warren Buffett". Gulp. Perhaps I'll keep my phone for as long as I can.
We'll have to agree with Buffett's wisdom. Why splurge more on luxury car loans than you need to? With 360 Finance as your car finance broker, you''ll be able to get ahead in your new set of wheels faster than you can imagine. We don't just make car finance quick and easy, we're the smarter total solution for your special needs today. Call us at 1300 361 360.