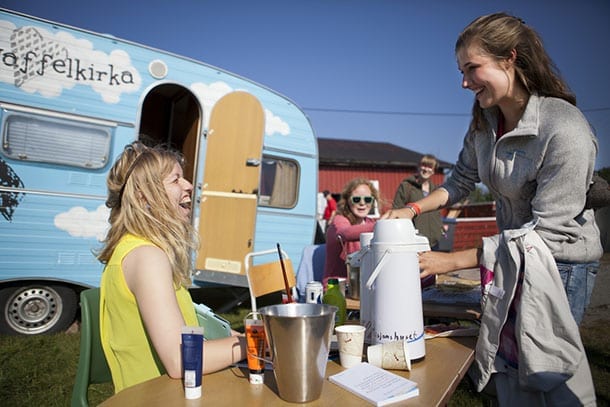 Young is the New (Grey Nomads)
With about 23 million other fellow Aussies, I've just celebrated Australia Day toasting to another day in paradise in one of the most privileged nations in the world. When asked by people I've met or friends living abroad about whether they should move to Oz too, my answer is predictable after I've sort of painted a picture that it is a utopia of absolute freedom and liberty. Then I always like to leave them speechless. By telling them that to best enjoy the total living-in-Australia experience, they've got to love camping. Or caravanning. Well, how not to when 85% of Aussies have stayed in a caravan holiday park at least once in their life, and it's a nation with more than half a million registered RV vehicles.
Except that I was being serious. Over the years, camping outdoors has always been my problem. Compared with the acquired taste of Vegemite, it's a deeper mystery that eludes me, like backyard cricket (or cricket in general) or deliberately omitting footwear outdoors.
Until today, I admit I still have camping envy. I can't go through with it. My disdain for flies and mozzies is as overpowering as the smell of 'outdoor dunnies'. I know…one day when I do grow up I might just brave the bush and creepy-crawlies and become all passionately nomadic, like the love affair Aussies have with caravanning and camping.
Over the Australia Day long weekend, caravan parks and camp grounds were filled to the brim with the enduring popularity of the camping holiday experience in full bloom.
Booming Industry – Grey Nomads
As an industry, caravanning and camping has always been huge in Australia, just take a look at how big the Caravan Shows are. But lately it's been enjoying a bigger resurgence, accounting for a staggering $7 billion of annual expenditure, representing more that 60 million visitors. Caravan registrations have experienced a higher rate of increase than any other vehicle type in the past two years.
Which explains why even as we're on the brink of the final moments of car production in Australia, there's been a sigh of relief from at least one vehicle manufacturer that's back in favour. Make that four times over the figures from 20 years ago, as the local motor industry welcomes the booming production of Recreation Vehicles (RV) in the form of towed caravans and self-powered motor homes.
Our comeback kid is Jayco, the largest local RV manufacturer which makes about 50 RVs a day from its Victoria factory in Dandenong South. Jayco makes ground on its overseas rivals by engineering RVs that are inherently suited to Australia's harsh weather and heat extremes including our unforgiving UV rays. These are also specially equipped for off road terrain. Overseas-built RV models often aren't equipped to fare as well in the long-term as they may not be customised to handle our rough terrains, weather and roads.
The majority of registered RVs are now owned by young families who have overtaken the 'grey nomads', a term coined by the industry for retirees who travel on endless road trips around Australia. For young couples, a road trip holiday meant they were able to stretch their travel budget to last as much as a whole year compared to only a quarter of the year holidaying overseas. People are waking up to the fact that travel should be about the journey itself rather than the destination. Spending quality time together bonding is more important than the holiday objectives of typical tourists, which is to comb through as many sights and places as possible.
"It's about escapism, getting back to basics an family values," according to CEO of the Caravan Industry Association of Australia, Stuart Lamont.
Australians are working harder and longer hours than ever, making the caravanning holiday experience more attractive than ever, as it provides the opportunity to take it easy and discover more of the local landscape and sights on a less stressful, much more affordable budget. There is also the appeal of great adventures in the great outdoors, something just built into Aussie blood and culture.
Adventure seekers, unlike myself, have the gall for snakes, wild critters, bugs and and whatever's out there that goes bump in the night. I have a faint heart but yet confess I'm tempted by the romanticism of starry nights, toasting marshmallows skewered through crooked twigs over open outdoor campfires, happy faces bathing in a warm rosy glow as we sit around a tight circle, sharing stories of old. Away from creature comforts of home, perhaps this is where my camping envy enters—those who love camping have the courage and resilience to get down and dirty with their hands. Young children could learn so much more than they would at school if they manage to inherit from their gung-ho parents wilderness survival tactics that enable them to experience true National Geographic in action.
Suddenly a family trip away to Disneyland in the USA or to Bali doesn't sound as amazing, and more Aussies are aware the last thing they need on returning home is a large credit card debt. When we choose the caravan option of travel, instead of accumulating debt, we instead gain an asset to either re-sell or re-use.
Younger Trend For Grey Nomads
No wonder the average age of visitors to caravan and camping trade shows is steadily falling as the stigma of grey nomads vanish with younger generations embracing the new trend of travel here. Now, the largest consumer group in the industry is made up of 35 to 49-year-olds, who account for about 50 per cent of all travel in this sector.
The boom in the industry has resulted in caravan park operators becoming more competitive in never-been-seen-before improvements to overall value especially in the larger resort-style parks with eateries, bars, water parks and facilities. Competition has also increased in the caravan loans market due to the high demand for these ever popular recreational vehicles.
A friend of ours told me the other day that I should check out 'glamping'. I thought she meant 'gramping', a new term for grandparents taking grandkids camping to bond.
"No. Glamping," she insisted. It's…glamorous camping. For people like you." Now it was my turn to be speechless. Now that's something I'm going to investigate.
Are you one who just can't get enough of caravanning, camping and road trip adventures?
At 360 Finance, we'll help you make this an even more affordable reality. Our highly competitive financing plans for Recreational Vehicle (RVs) will make you one happy camper!