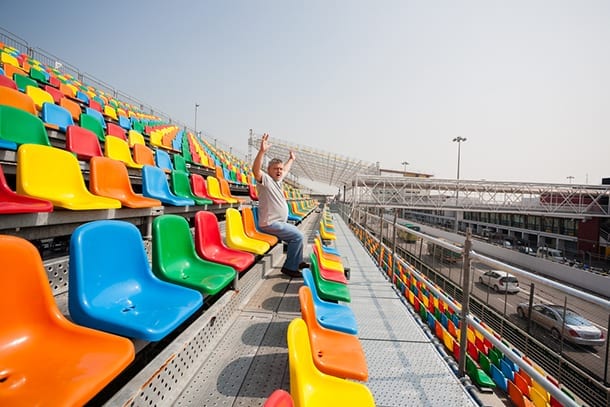 The Car Enthusiast Bucket List
Being a car enthusiast is a life choice. Petrol runs through your veins. The sound of a large capacity V8 or a rotary engine revving at 9000rpm gets your heart pumping. Some say it is an addiction, others say it is a curse, regardless, it consumes your life. Thank the motoring gods for car loans as there is no way I would be able to keep up my hobby with saved cash alone.
Here are 10 of the most popular bucket list items for petrol heads worldwide.
10. Jay Leno's Garage Tour
With this tour only being offered periodically to the general public, often times with tours auctioned off with the proceeds going to charity, this is an experience not many will be able to enjoy. With over 130 cars and 90 motorcycles in this collection, which is widely regarded by enthusiasts as one of, if not the best car collections in the world, there is something that will interest everyone. From numerous McLaren F1's to the latest hypercars from brands like Pagani and Porsche and classic restored muscle cars, the range of vehicles is incredible. The estimated value is also eye watering – $100m+.
9. Isle of Man TT
Potentially the most dangerous motorsport event in the world that is still running, the Isle of Man TT (Tourist Trophy) sees motorcyclists from all over the world come to compete on a road course for the best times. The 37 mile long course lap record currently stands at 17m06s, with a staggering average speed of 132mph (212km/h!) – on public roads! On every other day of the year the Isle of Man would be worth visiting as well…it has no speed limits!
8. Pebble Beach Concours d'Elegance
Widely regarded as the best collection of vehicles assembled in one place annually, the Pebble Beach Concours d'Elegance has been running since 1950. As the halo event in the Monterey Auto Week, the "show" is held on the grounds of the Pebble Beach golf course. The cars on show at this prestigious event range from merely ridiculously expensive to priceless, the best in show award for 2014 went to a 1954 Ferrari 375 MM, conservatively valued at $28,500,000.
7. Pikes Peak International Hill Climb aka "The Race to the Clouds"
The Pikes Peak Hill Climb is an annual event where cars and motorcycles "Race to the Clouds". With vehicles specifically built to compete in this event, it is a hotly contested 19.99km race compromising of 156 corners climbing over 1440m over the course. Prior to 2011 it was a gravel and dirt mix but was paved in August 2011 for safety concerns. With drop offs on corners of over 1000m and no guard rails, it is a true test of man and machine.
6. Bathurst 1000
As Australians, we will all be familiar with this event, the pinnacle of Australian Motorsport. 161 laps of twists and turns, up and down "The Mountain", totalling 1000km. Some of the most iconic moments in Australian motorsport history have happened at Bathurst, Dick Johnson's infamous collision with a rock, Nissan being banned from the mountain, the Mini's fighting above their weight class, it goes on and on.
5. Le Mans 24 Hours
The 24 hours of Le Man is simply epic. A mix of different classes all racing door to door over 24 hours, through the dusk, night and dawn. The goal? Driving as many laps as possible over a 24 hour period. With teams of 3-4 drivers running one car, it is a battle of attrition as much as a battle of outright speed.
4. Indy 500
The Indy 500 generates some very very large numbers. 103rd running this year (1911 inaugural year). Total time – 2h40m48s. Average speed – 300.244km/h. 500 Laps. Over 150,000 fans. Big numbers for America's biggest motorsport event.
3. Goodwood Festival of Speed
A festival with some of the world's most expensive and fastest cars running up an English Lord's driveway, what could go wrong? Bringing out some absolutely classic machinery, you will see everything from prototype cars to 60's Formula 1 racers completing the hill climb. Some of the biggest stars in motor racing are generally on hand with drivers such as Stirling Moss, Jack Brabham, Lewis Hamilton and Alan Jones having recorded laps there.
2. Nurburgring
Some names just stick. When Niki Lauda recovered from an almost fatal accident in 1976 at this track, he dubbed the Nurburgring "The Green Hell". Due to the length of the track (~23km) with tight twisting turns and a narrow track, it is known as one of the trickiest tracks in motor racing to master. As an official toll road in Germany, it is open to the public for most of the year. As long as you are brave enough, and have the €27 in your pocket, you are free to try it out for yourself.
1. Monaco Formula 1 Grand Prix
Regarded as the most prestigious motor racing event in the world, the Monaco Grand Prix is the pinnacle of must see event for most car enthusiasts. Held in the principality of Monaco, the tight street course was first raced in 1929, with breaks only for world wars. Legends have been born on the streets of Monte Carlo and as the roar of 10-20 Formula 1 cars racing through the tunnel blasts your ears, you will completely understand why.
If you are a motoring enthusiast like me, you are in good hands with 360. They can help you keep your hobby alive by getting you into your next set of wheels by providing you with an affordable car loan at the most competitive rate in the market today.