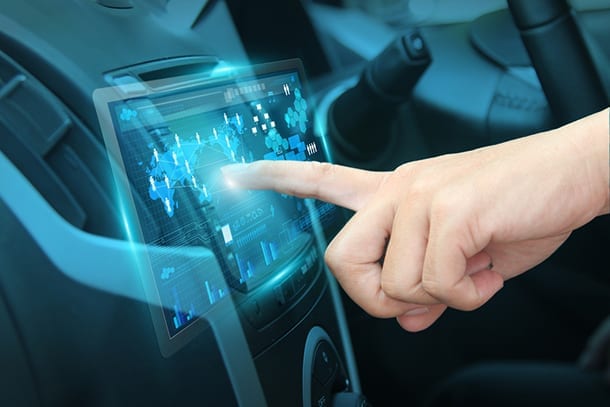 Get Car Finance on Four Fantastic Modern Cars
We recently published a post on low tech car buying for Luddites. For people distrustful of new car technologies or simply out for a bit of a retro look, it's perfect advice, and it has plenty of good tips for any car buyer. However, what if you're the opposite? What if you want the best tech you can get your hands on? In this instance, you are probably a tech savvy Gen Y or Z who has already tracked down the most competitive rate car finance through your smart phone or tablet. Now it is time to search for your perfect tech filled car.
Between high-performance electric engines, automated collision prevention systems, and entertainment and navigation options that keep getting more varied, the automotive industry is one of the technologically fastest-advancing sectors in the world. You want to go high-tech, so let's look at four modern cars that deliver an impressive array of standard options for their price points.
Tesla Model S
With no end in sight for the rise in fuel prices, alternatives to the traditional petrol engine like hybrid, electrics and even diesel engines keep growing in popularity while more and more money goes into their research and development. Tesla has long been at the vanguard of the electric car revolution and has been making waves with the Model S, a car whose range exceeds 425 kilometres on a full charge and includes all the bells, whistles, and advanced safety features you could want from the pricey—starting out at about $95,000—electric sedan.
Ford Focus
Starting out at only about $25,000, the Focus lies on the extreme opposite of the price spectrum from the Model S, but that doesn't mean it's a bare-bones vehicle. The Ford Focus incorporates quite a lot of impressive technology. For instance, it includes voice-activated built-in navigation and entertainment systems, an extremely powerful four cylinder engine at 188 kilowatts, and its fuel efficiency is impressive at 7.8 L/100km. It's a good example of an inexpensive car that delivers some impressive modern options. For more cutting edge, inexpensive cars, don't miss our blog post on Australia's Best Affordable Cars of 2013. To find out if this car is in your budget, why not use our car finance calculator to get an estimate on what your weekly repayments may be? You may be surprised at how affordable our finance is.
Infiniti M
The Infiniti M's real strengths come from two places: its efficient hybrid engine that runs at 13 L/100km city and 9 L/100km highway, and its smooth, attentive handling. The car includes plenty of useful pieces of tech including a rear-view camera, six-speaker stereo with Bluetooth, and various optional sensors for parking and collision prevention. Starting at $52,000, the Infiniti M is a great option for its mid-price range.
Hyundai Veloster Turbo
Hyundai's less-is-more attitude shines through with the Veloster Turbo. While it includes the kind of tech that we've grown to expect in a modern car like touch screens and a built-in navigation system, the real stars are the suspension and power train. While most sporty cars feature a cranked-down suspension to show off on mountainous terrain, the Veloster Turbo is actually tuned for street and highway driving. The power train runs smoothly, quietly, and reliably, making this a very comfortable ride. Starting out at about $29,000, the Veloster Turbo won't cost you an arm and a leg to finance, either.
These are far from the only fantastic choices that you have for a modern, high-tech car, but this is a great place to start. If you're new to the car buying game, check out our advice for buying your first car. Once you've made your choice, 360 Finance can help you with your car finance options, including unsecured and secured car loans. To get there, you need to find your perfect car, so get looking!