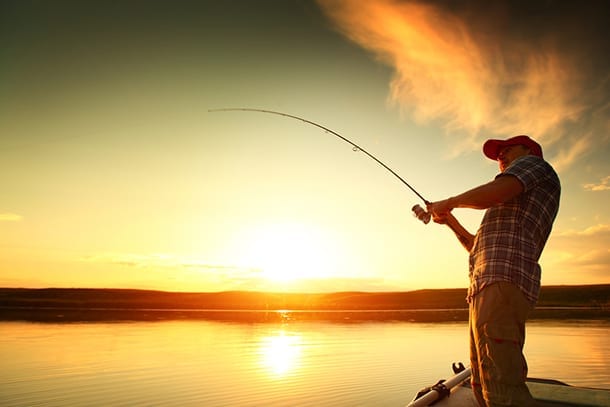 As the mercury rises, so does our enthusiasm for the great outdoors. It's some of the many great privileges we Aussies enjoy, living in some of the world's most perfect sunny holiday destinations. There's much to love about our Australian summer, our idyllic beaches, both land and water adventure activities and particularly now, amazing fishing.
The latest and largest ever Queensland recreational fishing survey now ranks the number of anglers above golfers, swimmers and cyclists—these are no longer the more popular sports or recreational activities as compared to getting our lines wet. There is a growing trend of young people with the highest levels of participation in fishing, those aged 5-14, followed by those aged 30-44 (about 15% of Queenslanders alone) enjoying abundant marine and freshwater fishing as a leisure outdoor activity. This could be a reflection of the nature of recreational fishing tending to be a favourite outdoor family activity in our Australian lifestyle.
As we embrace the warmer weather, our waterways are coming alive, not just teeming with fishes but water vessels. Along with fishing, boating is increasingly a favourite pastime of Aussies. And why not, when we have just the perfect climate and waterways that make boating accessible to virtually anyone. There is a boat to suit just about anyone of us with just about any type of budget or purpose. Some are surprised that in Australia you could get a rather decent new boat for the price tag of a small Japanese car. But don't we be fooled, for not all boats are made the same.
Different Types Of Boats For Your "Gone Fishing Trip"
Boats are available in a myriad of shapes and sizes and constructed in an array of different materials. You could be buying a 'tinny' made of aluminium or a maxi yacht made of carbon fibre composites. Tinnies are great for smaller boats that will be used in calmer waters like lakes and estuaries, while plate aluminium is ideal for a boat larger in size (e.g.more than 5.00m length)for coastal, bay or offshore boating. Many commercial fishing boats are also constructed in plate aluminium. Fibreglass boats like yachts and cruisers are generally heavier than aluminium and require greater care as they tend to chip or crack when hit.
Cuddy Cabins are popular for family boating, fishing, cruising and water sports, and come made in aluminium or fibreglass. There are also Runabouts which are open boats with a steering wheel controlled console behind a small windscreen. These are a popular entry level boat type for family boating, fishing and tow sports. Centre Consoles are built for rougher offshore waters for anglers in pursuit of sport fishing. For its purpose, it usually comes with insulated iced storage for fish. If you're the adventurous thrill seeker and adrenaline junkie, you may be on the lookout for PWCS 'Personal Watercraft'— which allows you to tackle a variety of water sports activities like tubing and waterskiing.
The above list is by no means exhaustive. There is such a daunting range of vessel types in addition to brands, and they come available as new, near new or old. Whatever its age or characteristics you'll want to know that you're getting value for money and that it will be delivered in the condition advertised.
Get 'Good Title' & Know Your Boat Well
If you have little or no boating experience, the best advice would be to get some! Take time to explore in detail the area of boating you have an interest in to help you best make an informed decision about your choice of boat to buy. There are numerous boating associations and clubs that provide the newbie with an opportunity to gain good experience. Similarly, magazines and books are great resources to find out just about every facet of boating.
Determine what you really want and need. Be confident of your ability to assess the boat's capacity to perform as required, and spare no effort to be sure that when you pay for your boat, you're going to get good title to it from the seller and value for the price you've paid.
Do Your Research
Whether you are a seasoned 'boatie' with decades of ocean experience or a newbie making your first plunge into the marine marketplace, you'll be wise to find out as much information as you can to avoid the pitfalls of boat ownership. It's wise also to ensure that your newly purchased boat complies with Australian standards, and do be shrewd with getting professional inspection checks once the investment becomes huge. There are horror stories of cheap parallel imports that may appear cheap but as they say, 'when something is too good to be true, it is'. Australia has one of the most stringent safety requirements for our water vessels and some of these 'grey imports' could raise both financial and safety concerns for buyers. There could be hefty taxes and hidden costs in importing one, and often they carry little or no value when you try to resell them. Many insurance companies will refuse to cover a claim if your rig was purchased via unauthorised channels or fail to meet Australian standards.
The risks and issues on your boat purchase will probably increase proportionately with the size and price of your boat. If the purchase represents a substantial financial commitment it may be in your interests to minimise your risk if you seek and obtain professional legal and financial advice before committing to the purchase.
Making A Checklist Of Your Boating Needs
So we're back to the question of how does one find the right boat? Start with determining your needs. Work out your objectives for wanting to own a boat. If you're not intending to use it beyond the odd weekend, will hiring one perhaps be less daunting? Or perhaps hiring different boats will help you in your final decision. Do narrow your choices by listing factors such as what the boat will be most used for (e.g. fishing or water sports) the capacity it can carry, how far offshore you want it to take you, and if you have other additional needs such as trailering, overnight sleeping or entertaining.
There is no predetermined amount of time recommended for boat shopping. Be as ready as you can be before you commit. You could take anywhere from weeks to years but I'll let you in on a little secret. Not many people realise they can test drive a boat in a sea trial a lot like how you'll test drive a car on land. Oh yes you can, and experts claim it's best to do your 'test drive' (or test dive?)in not calm but slightly more challenging conditions just so you're able to get an idea of how you'll be expecting it to perform under moderate or more extreme conditions.
Boat Licence
What about boat licensing? A license (you need to be at least 16 years old) is required to operate any type of recreational boat powered by an engine power greater than 4.5kW (over 6hp). Unlicensed boat drivers may operate a recreational boat or PWC provided a licensed driver is onboard supervising. Most marinas and dealerships have instructors on hire. The best thing about a boat licence is its longevity; once stamped, its validity lasts a lifetime.
How beautiful is that in a world where you're charged a fee for most renewals, except maybe the good old library. Which reminds me that I might persuade my other half to do a spot of fishing while I curl up with a good book. Ah, the romance of getting some tasty fillets on our plate caught by you, hon, in sunny Queensland, the perfect holiday and fishery destination. "Give a man a fish and he has food for a day; teach him how to fish and you can get rid him for the entire weekend"…
Making an investment in a boat that will change your life? Let our experts at 360 Finance assist you in tailoring the most competitive boat financing package to match your special needs.