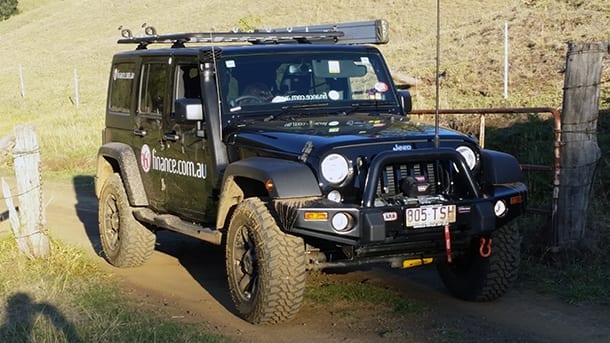 5 Essential 4wd Accessories
Four-wheel driving is synonymous with adventure. If you've got the right set up, there are few places you can't go. Weekend trips, long holidays or total lifestyle changes are all possible with a great four-wheel drive and carefully selected accessories. However with the popularity of four-wheel driving increasing and more demand for good quality add-ons, the market is overflowing with gadgets and extras that are marketed as "must haves". For this reason alone it is essential you deal with the very best car finance products to help minimise the interest costs associated to pay for these extras. Even for experienced four-wheel drivers, it can also be difficult to know what you do and don't need to have. So what accessories are really essential for four-wheel driving? See our list of the 5 most important accessories below.
1. Bull bar
A bull bar serves several important functions on a four-wheel drive. The main purpose of the bull bar is to protect the front of the car from damage in a collision, particularly with an animal. The bull bar is made to take most of the impact and although some front end damage may occur, the more vulnerable engine components are less likely to be damaged. Bull bars are particularly important if you plan to travel off road in open grazing areas or during sunset and sunrise when there is a high risk of kangaroos coming across the path of the vehicle. The bull bar is also the first line of defence against small trees, logs and rocks if traversing a well overgrown track and prevents serious paint or body work damage to the front of the car.
The bull bar needs to allow for high ground clearance whilst sitting low enough on the front to reduce reflection and prevent restricted view from the driver's seat. It should be made of strong materials such as steel or alloy, be rust protected and comply with Australian standards. It is also important to ensure that a retrofitted bull bar does not influence the triggering characteristics and effectiveness of airbags within the vehicle. Take a look at our top 5 4wd Accessories for your setup.
2. Winch
It is likely that there will come a time in your adventures where you find yourself stuck and alone. Hopefully this won't happen often but this is when the winch becomes an absolute necessity. A winch will allow you to pull yourself out of many places using an anchor point in the environment. A winch is usually fitted to the bull bar with the most popular winches being electric or hydraulic. There are positives and negatives of each but regardless of the type, it is essential to ensure that the winch has the capacity to pull the total weight of your vehicle. This weight includes gear, fuel, and passengers with a good average generally being around 1.5 times the starting weight of the vehicle. A winch will provide you with unbeatable retrieval abilities and is recognised as the most important vehicle recovery accessory.
3. Snorkel
If you plan to travel through any kind of water, a snorkel is a must. Every engine needs an air intake mechanism in order to work. Usually the air intake on a four-wheel drive is on the front grille or inner guard. This means that when traversing creeks, rivers or beaches, water can enter the engine and cause considerable damage. A snorkel replaces the standard air intake point and raises it high in order to prevent water entering the engine. In theory this means that the car can be completely submerged as long as the intake point is out of the water. A higher air intake point also means that cooler and cleaner air is provided to the engine as there is less dust and contaminants at roof level. This protects the air filtration system from quickly degrading especially along dusty outback tracks. The snorkel should be made from good quality plastic with a high UV rating to ensure it withstands the Australian climate.
4. Suspension and Lift Kit
The purpose of upgrading the suspension is to improve the handling and safety of the vehicle particularly when it is under heavy loads. Factory fitted suspension systems are designed to handle only standard weights. As soon as the four-wheel drive is loaded with gear, passengers, food, fuel, water, and accessories, the suspension is quickly under increased demand. Towing a caravan or camper trailer will also put increased stress on standard suspension systems. This strain can result in changes to the traction and wheel alignment, reduce fuel efficiency, impact on handling and steering and make for a very uncomfortable ride!
It is a good idea to consider adding a lift kit at the same time to increase ground clearance. Extra height is essential in rough terrain or on rolling sand dunes as big rocks, creeks and wash outs and soft sand can often result in "bottoming out". A lift kit will also allow larger wheels and tyres to be fitted. It is often fitted with upgraded suspension due to the change in the vehicle's centre of gravity which puts stress on the steering components and CV joints of the 4wd. It is best to talk to a specialist about upgrading the suspension and adding a lift kit to find the right system for your vehicle.
5. Auxiliary Driving Lights
The remoteness of many four-wheel drive tracks across the country means that night time driving is often through pitch black surroundings. Standard 4wd lights do not provide enough illumination to drive rugged tracks or travel the beach at night. As such, auxiliary driving lights are a must for safety. Even if you don't intend to travel at night, track detours or obstacles can leave you unexpectedly travelling in the dark.
Generally the best combinations of lights are those that give you both spread and distance. Spread refers to a short but wide illumination area with the purpose being to brightly light to the edges of the road. Distance is usually achieved through fitting a spot light or pencil beam that can light up to one kilometre ahead. There are three types of lights commonly available to choose from including halogen, HID and LED with the majority of people choosing LED lights due their efficiency and their long life. It is important when fitting auxiliary lights to ensure that none of the light housing projects further than the front bull bar due to the risk to pedestrian safety in an accident.
The Cost
The cost of all of these accessories can add up quickly however what many customers don't realise is that these extras can actually be financed as a package when purchasing the four-wheel drive. It does not matter if the four-wheel drive is new or used, or if the accessories are purchased from different retailers, 360 Finance are able to include these in the whole finance package. All that is required is an invoice for each accessory from the supplier and these are added to the finance documents. At settlement, the funds are paid directly to the supplier and all of the accessories can then be fitted.
So what are you waiting for? These essentials will get you wherever you want to go and back again. With 360 Finance, your adventures will be affordable too!