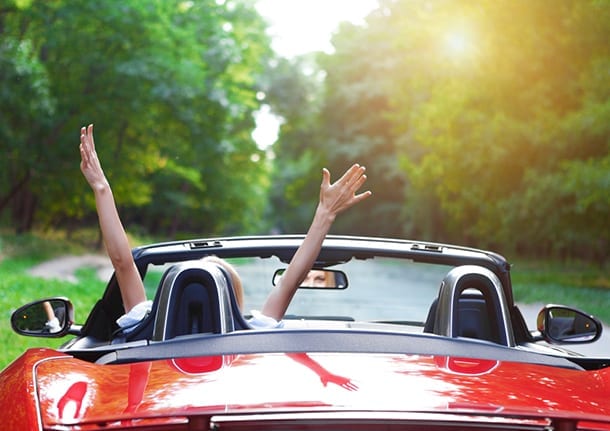 Going Topless & Getting A Convertible Loan
I have certain theories regarding people who drive with their tops down, those strange folks who zip down the tarmac topless. It ought to be illegal, I think, though they are usually clothed but choose to drive without a roof over their heads. No wonder the men almost always have a hat or cap on, and the women usually opt for a billowing scarf over their hair. I already have 6 out of 7 bad hair days per week, and honestly just can't see the point in putting your coiffure to the test on a daily basis. Surely there must be some real anti-climax going from exuding style as you hop rather than climb (who needs doors, baby) into your sleek topless sports car only to wonder, on arrival, why the valet is sniggering when you toss him the keys. Even with the help of heavy duty hairsprays, there are still endless risks with driving convertibles—like the problem of bugs and the surface of your head being an attractive target for birds to defecate on.
Then there is the heightened problem of potential thefts, breaking-in and entering. Even if your convertible didn't end up as easy prey to grand theft auto criminals like Nicholas Cage in the classic movie 'Gone in 60 Seconds', think about the huge potential for property loss. I still can't fathom how much of a hurry convertible drivers could've been in when they casually leave their prized luxury convertibles parked topless. They practically scream "Rob me!" regardless of whether you are inside it or absent. How much more tempting would it be to break open the openly inviting glove box as thieves rummage for valuables or strip parts off your car. Sometimes even when there was nothing to steal, mischief might be motivation enough for vandals (drunken, poorly-parented kids, 'weeded-up' junkies and the like included) to wreak havoc on a car that is left openly vulnerable and free for all. Will you be safe leaving your 'soft top' on then? Well, you'll want to get a heavy-duty fabric that won't fall easy prey to the 'slash and cut' treatment. Should you be looking to shop around for car finance on a flashy convertible, be sure to invest similarly in reliable security systems for your new ride. This will help towards preventing every conceivable mishap and challenge your special car presents.
That reminds me of driver and passenger safety issues with convertibles. Soft tops are known to be less rigid and secure than hard tops in the event of vehicle accidents. Unless you have a head made of cement or steel, I reckon you'll prefer a hard top anytime as long as you don't, God forbid, roll over while cruising with the wind in your hair. To add insult to a head injury, certain warranties also may not cover soft top materials made of vinyl or fabric. You also can't drive it into a car wash without thinking. It demands loving tender laundering, I'm afraid.
Aha, you might think clever and get a hard top, that's until the skyrocketing bill of hard top repairs drive you over the roof indeed.
So why are convertibles still selling so well and just what is it that can drive any logical person to desire them when you can name more cons than pros? I look sometimes at the people driving them and find myself wondering how they live with the annoying turbulence, insufficient noise and inadequate weather protection? One glance at the boot space and it is actually non-existent. Not unless you only have a very tiny purse to carry and cross your fingers it isn't a Prada that a bird mistook for an elegant black lavatory and also, that no hooligan would thoughtlessly flick a still-glowing cigarette on.
I suppose there are things that override one's better judgement so that they still find themselves wanting one of these stylish roadsters. A bit like a more protected motorcycle, you eliminate any sense of claustrophobia replaced with that unbeatable sense of freedom and speed. There is probably no feeling greater than life lived inside of the scenery when the roof is down, and the wind is blasting against your hair and face, getting your heart all racing.
Celebrities Popularise Convertibles
Remember I said I had a theory? It's the rock star and celebrity self-esteem boost one gets from driving a convertible. Besides, they are hard to resist when so many celebrities embrace it as the ultimate 'I-have-arrived' status symbol. There's one to suit every personality type. Strapping macho male archetypes like Gerard Butler is known to love his BMW Z8 convertible, while the quintessential android-like terminator Arnold Schwarzenegger's topless ride is a Bentley Supersports. The younger metrosexual celebs like Ashton Kutcher favour the attention-grabbing Ferrari California while boy-next-door Matthew Perry has always known his Porsche convertible to be of his one truest friends. The flamboyant women of showbiz aren't left out. Bad girl Lindsay Lohan zips around in her open-top Porsche 911 Cabriolet but might just appear like a convent girl next to the smokey-eyed, sultry Kim Kardashian. Who doesn't know Ms Kardashian is not just famous for being famous, but is now the world's most controversial cover girl after her infamous Paper Magazine cover shot by renowned photographer Jean-Paul Goude. Before she even appeared in the shoot, she had already let the world know she had a penchant for 'going topless' in her favourite blacked out Bentley Continental GT convertible.
Hardly surprising then that there is such a cult following for topless driving. Speaking the universal language of money, the luxury range of convertibles exude a hedonistic quality lusted by the rich and famous. Along with almost-always striking styling, sensual sculptural lines, topless cars are a lavish refinement for the affluent classes. Some of the best-known luxury makes are the Mercedes SL-class (SL-550/ E class cabriolet), the Audi RS5 Cabriolet, the BMW 4-Series that is available as a convertible or coupe, and the Porsche Boxster with its famous one-touch '10 second' folding top lid, a sporty convertible enthusiast's idea of the ultimate gold standard in motoring.
It is great for convertible lovers to know that modern car engineering has helped mitigate many of the problems associated with cruising top-down. Technology has now reduced ambient noise and even dealt with the nagging issue of convertibles behaving like they have Parkinson's Disease—by eliminating or significantly reducing the case of 'having the shakes' , by increasing both the stability and insulation functions. Probably the best improvement in safety must be the invention of the 'Roll-over protection system', an added safety mechanism to ensure a protective occupant cell in case a convertible does roll on its head. Better the vehicle's head than yours!
Going Against Conventions Of Convertibles
Convertibles come in many shapes and forms these days, and there are options that allow you to enjoy the wind in your hair without many of the challenges posed by traditional convertible designs. Automotive sunroofs for example, do offer greater protection and increase driver safety along with improving vehicle theft safety. In Australia's Best Cars Program 2014, the Mercedes-Benz A45 AMG was ranked Best Sports car in the $50,000-$100,000 category. The full-length panoramic sunroof was amongst its best-selling features as it provides a sensation of convertible-driving with a sense of spaciousness beyond its compact hatch dimensions.
Is your inner driving persona raring to do a Kim Kardashian? Going topless doesn't always mean you need a bottomless pocket. There are alternative classes of convertibles. Even used convertibles can be respectable, and many such popular models are named in the under $30,000 used convertibles market in Australia: The VW Beetle Cabriolet, Mini Cabriolet, Mazda MX-5, Holden Astra and VW Eos(4-seater).
If you're thinking of striking out and splurging on a new 'over-the-top' experience, call 360 Finance and let us help you realise your dream. Our car finance packages are guaranteed to be competitive, giving you a 'breath of fresh air' as you whizz away and take off in true show biz style.