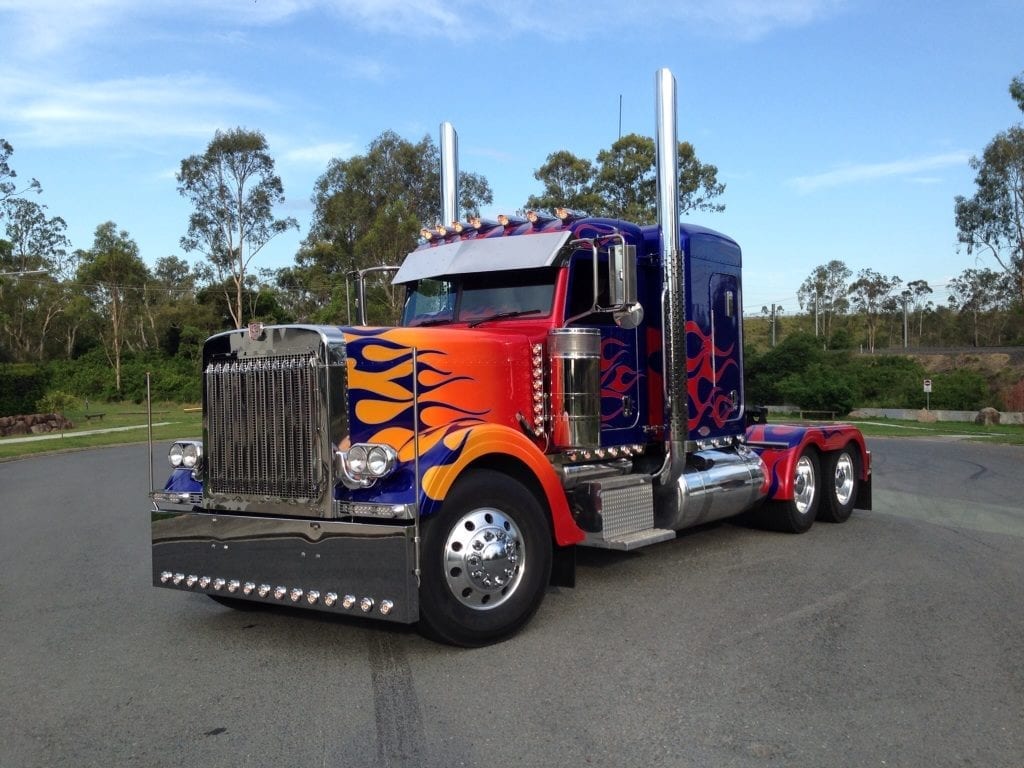 WITHOUT TRUCKS AUSTRALIA STOPS
I don't relish grinding my teeth or developing sciatica that begin as leg cramps from having my right leg perpetually hinged on the accelerator. But that seems the only way to drive when you're perched behind a snaking road train that rattles and clunks on the rough bitumen doing 40km/hour on a single carriageway along the M1.
My same resigned response is to do the unnatural thing for most people in a hurry today: wait it out. That means to keep my sleepy eyes focused for the sighting of the first overtaking lane and then it's full throttle past about 50 metres (gulp) of the road train's endless carriages. But waiting is tough. An activity best executed when one is distracted. It was at that precise moment of growing annoyance coupled with road rage nesting inside of me that I chanced upon a slogan on a sticker and an epiphany.
"WITHOUT TRUCKS AUSTRALIA STOPS". There I was, eyelids drooping along with my shoulders on my dreary drive when they popped open again on noticing this at the heavy load's rear. Funny how I managed to miss it in the last 3 km stretch. I paused as my mind tries to ponder on this rhetoric.
Love them or loathe them, trucking is a big business Australia-wide. Apparently there are over 46,000 of these businesses across every Australian state and territory and the industry's forecasted freight growth is set to become exponential on the shorter interstate corridors of Sydney to Melbourne and Sydney to Brisbane.
The majority of Australia's road freight is moved by hire-and-reward operators, these are essentially transport and logistics operators that provide trucking services to carry goods. Others are known as ancillary operators whose main activity is something other than transport but they have truck fleets to transport their own products.
Trucking vehicles on our Australian roads are here to stay, so we might as well learn to embrace them and learn to live with them. Without this major industry, our economy will grind to a halt. It is quite simply our way of life considering our rail network was never adequately evolved for most of our freight and passenger needs. Nearly everything from the Vegemite we slather on our kids' toasts each morning, to the milk in our lattes, to the iPhones our citizens are known to camp overnight to buy were probably transported via road freight trucks. All thanks to the sheer expanse of our great country coupled with our low population density.
If you are in the market for a custom built truck or to give your current truck a makeover. Why not check out the guys at
Retruck Australia
. They are the professionals when it comes to custom trucks and imports of the top of the line
Peterbilt Truck
.
Our Australian trucking industry is one of our most formidable and important industries accounting for almost a quarter of all our local human resources hired in transport and logistics. The biggest impact and game changer for trucking companies and owner-operators must have been new advancements in diesel engine technology in the form of the turbocharger. It was the ultimate empowerment of all truckers since the 1970s—the magic of the vastly revamped performance of the 370 horsepower engine.
Soon to the detriment of our smooth driving pleasure, our Australian highways and hills began to echo to the endless roaring of long haul freight trucks and road trains that threaten to overtake our enjoyment of the roads.
Then again, as regular motorists we are guilty of our own blind spots; impatience and road rage with our truckies not only endanger our own road safety, we could potentially endanger an industry that our livelihood greatly depends on—manufacturing, retail and wholesale trades are all heavy users of trucking. Approximately 70% of all operators have only one truck in their fleet and about 24% own two to four trucks. Less than one half of 1% of all trucking operators have fleets with more than 100 trucks. This means most of our truckers are small business operators in a highly labour-intensive trade.
The long hours, tight delivery deadlines, poor pay, low empathy from fellow motorists on the roads deter manpower needs in the industry all the way from attraction to retention. Not only does Australia face a severe driver shortage, The TWU (Transport Workers Union) warns that there is a growing pool of skilled drivers out of work due to companies courting foreign drivers rather than working to improve conditions and compensation for our local truckies.
The next time you are tempted to snarl at the driver of a long overload vehicle, try to understand that the poor guy might be breaking speed limits and the law just so he can deliver goods on time and race through enough kilometres to make a decent income. Don't bother with the hand gesture either, least not when you're unable to see the truckie's mirror—which means he is unable to see your 'polite' hand greetings anyway, ha.
I have two peals of wisdom for us ordinary folk. One, (note to self): Keep safe, forget tailgating. You'll need to have an unobstructed view to be aware of obstacles ahead like other vehicles or debris and allow for enough safe stopping distance. Our Department of Transport and Main Roads website has clear guidelines for all road users on driving safely when encountering our many long vehicles. I was enlightened to know where my truckie's blind spots are located: immediately in front, or right behind, beside the truck driver's door, and on the passenger's side (which runs the entire length of the truck) which extends out to around three lanes.
Two, (and lastly) we could practice kindness in 'paying it forward'. Let him pass safely and if you can find it in your heart of hearts—give our mate a wave perhaps when you get a chance. You never know, you could soon be rewarded. Who knows, he might just be rushing a shipment of that iPhone 6 Plus you were hounding your telecom shop salesperson for. Wasn't that order placed about three months ago? There must be a real shortage of truckies then. No wonder without trucks, Australia definitely stops.
Are you financing a heavy vehicle? The trucks driven today are more advanced to meet the growing sophistication and demands of the Australian marketplace. In many cases, they have also grown more expensive. That's when you need to weigh the difference of how the best financing options help provide you the best return on your investment. Allow our experts at 360 Finance to assist you today.