The start of the new year is relished by most of us because it's the perfect opportunity to set some New Year's Resolutions. It's the time to reevaluate your financial goals, start saving for that new car you've always wanted, or simply get on top of your finances. But how many of us actually achieve the goals we set?
If you are one of the 92 per cent that sets a New Year's Resolution every year but never actually achieves it, then we have good news for you!
We have collated some of our best financial tips to ensure you will stay on top of your finances this new year.
Tip 1: Reflect on the Previous Year
The best place to start is to reflect on how you have spent in the previous year. You can do this by taking a moment to answer these three simple questions:
What were my financial goals for 2019 and did I achieve them?
Where did I overspend?
What opportunities do I have to improve my saving?
Tip 2: Set SMART Goals
Whether you are saving for a new car or a trip away, it's important to have a specific financial goal. Once you have established your overall goal, you can break it down into smaller, SMART goals to achieve it.
For example, if your goal is to save $5000 this year, then your SMART goal would be to, "set up an automatic transfer of $100 from my paycheck to my savings every week."
To break it down, SMART stands for:
Specific: what do you want to buy or accomplish?
Measurable: what exact figure do you need to achieve it?
Achievable: what steps do you need to take to reach you goal?
Realistic: is your goal in line with your current financial situation?
Timely: what increments do I need to save each week, fortnight or month to achieve my goal?
Tip 3: Create a Budget
There are many ways you can create your budget. The hardest part is finding the right one for you. One simple method you can use is the 50:30:20 budget rule. This is an easy way to break down your finances and can be adjusted to meet your individual needs.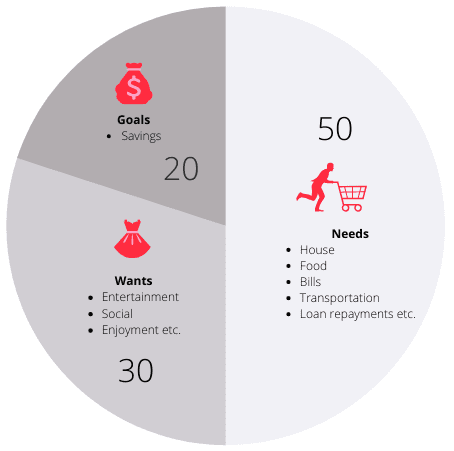 Tip 4: Hold Yourself Accountable
Now that you have planned your goals and your budget, the most important task is to find a way to ensure you stick to it. A simple way to hold yourself accountable is to share your goal with your friends or family. Allocate a regular time to check how you are progressing with your goal. You may even find a friend that has a similar financial goal. Having a friend who is also saving can be an easy way to motivate yourself to achieve your goal.
Another way is to use an app to keep track of your expenses. Some of the best budget apps are:
Or, if you prefer to stay clear of apps, simply use pen and paper! Ultimately, it doesn't matter how you do it, as long as it works for you.
Using these four simple steps, you will be part of the eight per cent who will achieve their New Year's Resolution this year.