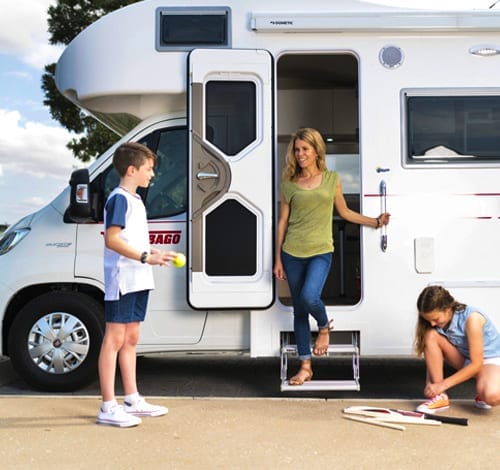 Caravan Finance Calculator
Today's lowest rate is 6.75%
(Comparison 6.75%*)
Estimate your Caravan loan repayments.
Owning a caravan is a life dream for many Australians. A caravan offers you a certain lifestyle, whether you're a retiree wanting to spend your twilight years travelling the countryside, or you're planning a family road trip.
Whether you're looking at a new or used motorhome, caravan, or camper, it is a big purchase. Finding the right caravan finance makes it a more affordable option, so you can reach your goal of owning a motorhome much sooner.
Important considerations before taking out a caravan loan include the price of the caravan, how much of a deposit you can put down, the interest rate, and the loan term. To work out how much your loan repayments are, a good place to start is with a caravan finance calculator.
Caravan loan repayment calculator
A loan calculator is an effective tool to gain an understanding of your caravan loan repayments, without committing to a loan.
Easy to use, a caravan finance calculator helps you understand what you can afford and how much you can expect to pay, both in terms of repayments (whether weekly, fortnightly or monthly), and the overall cost of your loan.
Knowing what the repayments are may help you work out whether it's going to suit your lifestyle, as you want to be able to comfortably keep up with your regular repayments.
Caravan loan repayments are calculated based on various factors including loan amount, repayment frequency, loan term and interest rates.
When using a caravan loan repayment calculator, think about your loan term. Caravan loans often range from 1 to 7 years. You can enter your preferred loan term into the loan calculator, and this will show you what your repayments may be. You can vary the loan term to get a repayment amount that suits your budget and requirements.
The longer the term the lower the repayments, though the shorter the loan term the less you will end up paying in interest, so it is generally recommended that you get the shortest loan term you can afford. Talk to your finance specialist about what may work best for you, depending on your budget and the asset.
Keep in mind a caravan loan calculator does not take into account your personal circumstances, so it will not be 100 percent accurate, and when speaking with a lender or finance specialist, you may get different rates to what is shown on the calculator.
360 Finance specialist
While the outright purchase price of a caravan may be outside your budget, with the right finance, you can reach your dreams sooner than you thought possible. After using a caravan finance calculator, you can take the next steps towards getting your loan, and a key step is seeking the advice of a finance specialist.
A finance specialist will assess your situation and help you find the best rate of finance. You want to get the lowest rate you can, and a 360 Finance specialist has access to over 60 lenders. This means they are able to compare a wide range of loan interest rates and options to find you the best deal. 
Whether you're in the market for a caravan, camper van, motorhome or RV vehicle, 360 Finance can help you get the financing you need.
Terms & conditions of use: This calculation is provided as a tool to help customers estimate the repayment amount at a user specified interest rate and duration. Figures displayed in this tool may not include all fees and establishment charges. 360 Finance is under no obligation to offer private or business vehicle finance at the rate or loan duration period specified within this tool. Please note that while weekly and fortnightly repayment options are displayed, this repayment option may not be available from all lenders. To learn what your individual repayments on a given loan amount would be please call 1300 361 360 and speak to a 360 Finance consultant today.
This is a model, not a prediction. It only gives you an estimate of amounts and repayment periods; the actual amounts may be higher or lower.
It does NOT include extras such as establishment or account fees.
It applies to loans where your regular repayment includes both interest and the gradual repayment of the amount borrowed. It does NOT apply to interest only loans.
It does NOT consider your ability to make the repayments shown. To help you consider the impact of interest rates changes, an example is provided. This shows the impact if interest rates rose by 2% per year. Interest rates could rise in future by more than 2% a year.
It assumes interest is calculated by compounding on the same weekly, fortnightly or monthly basis as the frequency of repayment you select.
It is NOT intended to be your sole source of information when making a financial decision. You should consider whether you should get advice from a licensed financial adviser.
Caravan Loan Calculator FAQ's
What is a caravan loan calculator?
What will my caravan loan repayments be?
How much can I borrow?
What will my caravan loan interest rate be?