Someone once told me 'four wheels move a body, two wheels move the soul'. I imagine it must be so but I could be forgiven. Anatomically I just haven't been born with what's universally some crude metaphor to describe 'manly courage'. Apparently the best ones come in steel and are labelled 'serious'. Well you're definitely going to need some to ride a motorcycle.
For one thing, the stakes are so much higher when you are 'man over metal' a.k.a. motorbike rider. Potential road hazards that at most may only irritate or despair another car driver could end up fatally injuring you or totalling your prized two wheels on chrome.
I must admit I greatly admire my fearless biker mates for their 'no guts no glory' stance. I just love to watch them do their thing while I stand in awe like a child who's only able to stare enviously at adults doing the very things you must wait to grow up to try. Like how, after a quick flip of their helmet's visor, they do this pointy salute followed by an expert flick of their 'kill switch', (how apt when you're dressed in perforated black leather like Jeremy Renner in The Bourne Legacy). By then all I can hear, besides the idling warming of the engines and the rising rumble of the exhaust, is their muffled "Laters, baby" just before they blast away with a stylish twist of their gloved wrists.
You'll know then that I mean no disrespect when I draw a parallel between a motorbike rider and a smoker. Only in the manner that both are aware of the mortal dangers of indulging in their diehard habit yet deny the possibility that it could get them killed.
I especially can't fathom the merits of going 'man over metal' now that we're living in a certain part of Australia that in summer is either searing hot and dry or pours down in torrential storms. But well, motorbike enthusiasts are what they are. A rare breed; a brotherhood. There has to be good reason motorbikes remain a popular choice of transport here and everywhere around the globe. Almost 80,000 Australians purchased a motorcycle this year and those were sales figures only right up to September alone. The following list outlines the 7 discoveries I've uncovered under their bug-stained visors, after speaking to my many bikers, whether male or female, young or old, regardless of riding experience. Despite the many perils, they'll go on negotiating the challenging corners due to these compelling reasons: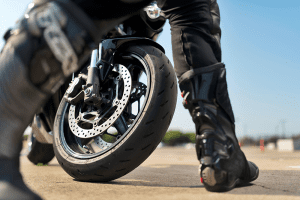 2 wheels transport the soul
1.THE THRILL OF THE RIDE
Few experiences in life can compare to the adrenaline rush you get from riding a motorbike. It's the ultimate thrill-seeking adventure that gets your heart racing at ignition even before your bike moves. How is this different from bungee-jumping or roller coasters, I naively ask. You can't bring a roller coaster home, or have trained personnel strap you to a tall bridge every time you need your fix. A bike is a daily fix of rush. Plus you get to enjoy scenery that you don't with these superficial short bursts of 'Yee-Hah'!!
2.ULTIMATE FREEDOM
If we care to remember the less painful episodes of our adolescence such as our carefree days of desiring everything to do with freedom and adventure, a motorbike continues to keep us young and in touch with our inner wild child. Think about it, bolting away on a whim, like unplanned escapes from the humdrums of our daily grind, travelling and seeing places not just with fresh eyes but with so little baggage strapped on. Considering that Motorbikes are generally more affordable than cars, the ultimate freedom is also in the minimal hit to the hip pocket you have after signing up for motorbike finance.
3. STYLE & COOL POINTS
Few riders will care to admit there's some vanity to it, but it's human nature to desire a swagger like Daniel Craig's. It's the James Bond/Tom Cruise/Jeremy Renner factor. A bike is sometimes just the epitome of cool and sexy with danger written in bold. And few people don't instantly look more stylish clad in some form of distressed black leather with elbow protectors. In retro style, especially. The range of stylish 'biker couture' and accessories continue to grow in the marketplace as both protective and fashion gear, attracting even non-bikers today wanting to pose as part of the riding community to increase their style points.
4.SOCIAL NETWORKING
I wasn't referring to Facebook or Twitter as much as being an instant part of a band of brotherhood that seems to accompany one's foray into motobike riding. Apparently in many countries around the world, riders do 'acknowledge' one another with a special 'wave' or 'point' as they pass one another. It's the way bikers do a 'fist bump' to say "How you doin?" The camaraderie among riders must be infectious. However, if you financed a Motorbike with 360, feel free to jump on our Facebook page and share your stories and pics. We would love to see your adventures!
5.SCENIC EXPERIENCES FOR EVERY ROAD WARRIOR
As riders clock up their mileage through the long and winding roads of down under, they experience nature, the outdoors and the wilderness in an exhilarating manner that cagers (means us, boring car people) truly miss out on. I imagine the views overlooking oceans while combing winding cliffs and coastlines in speeding linear motion, must be no less than breathtaking. Toes up, wind in your face, enough said.
6.PRACTICALITY
People with a need for speed probably covet utmost efficiency. You'll get faster anywhere by zipping through peak hour traffic and knee screeching to a stop in nicely designated motorbike parking zones. Another unbeatable quality is the fuel economy of motorcycles (often double that of cars) that simply keep adding to the zeal of commuting on two wheels. Ownership is easily attainable for a top performance bike compared to investing in four wheels that belong to the same category.
7.STAYING GREEN
Not only do bikes beat cars at being a cheaper and more efficient mode of automotive transport, they are also a means of minimizing your carbon footprint.
If only I had more guts and perhaps more of that something else extra—I can't think of a more liberating way of circumnavigating the great planet we live in while saving the earth. Roaring away in shiny chrome and hitting the power curve at full throttle clad in ebony leather, it won't just feel like I was merely saving the earth. One could be fooled into thinking they could save the world. Isn't that why people call bikers highway warriors?
Are you feeling lackluster in four wheels and want a piece of the two-wheeled action?
We'll be glad to assist you at 360 Finance with your new bike adventures!