Now that you've got licensing and the differences between bicycles, powered bicycles, mopeds and motorbikes sorted out, it's time to start looking. Remember that motorbikes have far less mass and space than a car. That not only makes it difficult for developers to improve bike safety, but it also makes it hard to identify a safe bike when you see one. We've decided to help you out by doing some research. Check out this list of the five safest bikes on the market today—don't leave it up to intuition!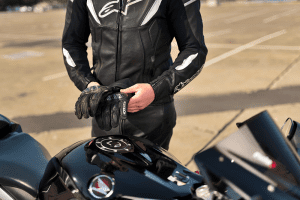 Safety is paramount on 2 wheels
#1: KTM 1190 Adventure
The brainchild of KTM and Robert Bosch GmbH, the 2014 version of this bike includes the best of modern bike safety technology. However, the bike's salient safety feature is its state of the art electronic Motorcycle Stability Control (MSC) devices, including an anti-lock braking system (ABS) that is active even while cornering. Its corner-active ABS improves the range of angles through which you can brake and makes turning significantly safer.
#2: Honda Rebel CMX 250 C
You probably rode or will ride Rebels in motorcycle safety courses or for your motorcycle licensing exam, and there's a good reason for that. Rebels have a low centre of gravity, reliable brakes, and a relatively tight turning radius considering their low price. However, they don't perform that well at high speeds; the ride gets pretty bumpy.
#3: Kawasaki Ninja
Ninjas are one of the safer sport bike lines out there, offered with engine displacements including 650, 500, and 400 cubic centimetres. The seat and handlebars are arranged for a more upright posture than most sport bikes, which provides a much better range of sight than a more forward-leaning posture. The engine and petrol tank are also placed relatively low, keeping your centre of gravity low despite your more upright position.
#4: Ducati Monster
The name Monster is well-deserved, with engine displacements upwards of 600cc. While these bikes are quite pricey and might require taking out larger motorbike loans than the others, they're solidly built and handle very well. Compared to the other bikes in this list, Ducati Monsters take a bit more effort to learn to ride well, but they make up for it with easy balance, responsive throttle control and anti-lock brakes.
#5: Triumph Bonneville
A Triumph is a large bike indeed, with an engine that displaces either 790 or 865cc. Unlike the others on this list, this is a two-seater bike, and that places the centre of gravity a bit farther back on the Triumph than on the bikes above. Its heavy frame renders it sturdy and helps it accelerate smoothly. You could do a lot worse than a Triumph.
There's no question that in the event of a crash, motorbike riders don't usually fare well. However, you can mitigate that by choosing the safest bike possible. Motorbikes can reach much higher top speeds than mopeds or powered bicycles, so you should strongly consider high-speed performance, reliability and safety features when deciding which one to buy.