Something old, something new. Something borrowed, something blue. Having a special place in the heart of every bride are little treasures that are tokens for good luck from an enduring old rhyme. Often the value of these precious small items aren't obvious to anyone but only to those nearest and dearest, like a scrap of mum's old blue dress, a blue sequined bobby pin grandma got married in or her vintage sapphire wedding ring…
But what if we can combine honouring the timeless tradition of this bridal rhyme with something too big to carry down the aisle but still allows the bride to arrive in style?
Like a brand, spanking new 2014 Aston Martin Vanquish two-door convertible. New? Checked. Blue Aston Martin? Ah. Not a problem at all. They come in Midnight Blue, Mariana Blue or if you prefer, Cobalt Blue. Checked. If you get to borrow one, lucky you, check 'old', if you find one to hire (good luck to that) check 'borrowed', should you wish to purchase one, check 'new'. Keep in mind that with wedding costs considered, an affordable car loan package may be key to keeping you financially happy once the big day is over.
I wonder which gives the bridal couple the bigger headache. Is it the wedding venue or the wedding car? Both represent classic symbols of one's wedding style and sets the tone for the wedding theme.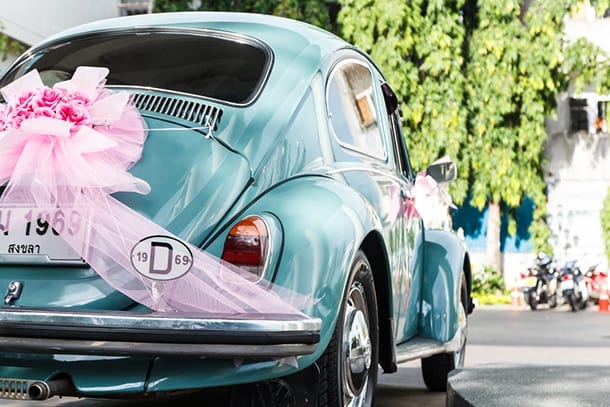 Something Blue…
Maybe you want to go retro but you prefer to go 'classic' rather than 'novelty'. A fairytale wedding is always embodied in the iconic and charming Rolls Royce of the thirties or even the vintage classic Chevrolet. Then there's the Bentley of course, which propelled to new found heights of fame after the much publicised historical royal wedding of Prince William and Kate Middleton. The Bentley S1 and MK6 are now two of the most sought-after Bentley wedding cars for the rich and famous. Before that, Princess Di and Prince Charles their predecessors made every bride want to relive Cinderella's fairytale through their choice of an elaborate horse-drawn carriage.
Wedding Cars For Royalty
Prince William, the world's most well-known groom, rode famously to Westminster Abbey in his nana's (pardon me, I meant Her Royal Majesty The Queen) Bentley State Limousine, one of the only two ever made in the world.
As for stylish Kate's arrival at Westminster Abbey before she walked down the aisle to her fairytale prince, a classic choice in the form of the Rolls Royce Phantom. Well, more specifically the limited edition quintessentially British 1977 Rolls Royce Phantom VI, of which only 18 were manufactured for various political leaders of the world. Looks like she knew just what to pick on her inauguration into royalty, and the biggest day of her life. Definitely the Rolls for those who wish to feel like a celebrity for a day!
Not into the high brow? More rock and roll chic perhaps? Nothing like a wild, vintage classic Cadillac convertible to strut out of as you arrive in some 'guns and roses glory' or if you want the whole family to ride with you, there's another option; a Cadillac limo with the complimentary drinks, snacks and entertainment systems and the last I heard—complete with disco era 'starry ceilings' on the roof interiors. If that's not 'badass' enough for your taste, you could get a Hummer stretch limo that can take even your in-laws as it is a whooping 24 seater!
Novelty Wedding Cars
As for those who prefer to let their colourful personalities rather than their wedding cars make a statement, there is no limit to the imagination with novelty wedding transport. Why not make your grand entrance from the skies in a whirring helicopter? Or roar down in a speedster two-wheeled classic motorcycle, or have half a dozen Harleys riding as your wedding escort? Like it slow? How about your bride and you riding a tandem bike with a lovely wicker basket stuffed with bridal blooms cascading out of it. How carefree and romantic. Perfect for a pair of childhood sweethearts getting married 20 years later among the fields where they used to fly kites and have afternoon teddy bear picnics (contented sighs). Or maybe you want to make the waves through a wading water taxi, rowing the oars yourself with your pretty bride blushing and beaming, as guests ooh and ahh, oblivious to her wind-swept hair for they are too busy being floored by your magical, romantic entrance by boat.
Still prefer the far more practical road vehicle? Couples thinking of getting hitched in novelty themed weddings should definitely explore the possibilities of the humble hippie VW Campervan! The unusual 'hip choice' is now a novel wedding car trend that's cute, colourful, value for money plus it is so roomy you could ferry the wedding entourage of best men, bridesmaids and even your shaggy dog decked in a tiny bow tie if you want. Alternatively, if you want to go BIG! Why not hire a semi trailer for your big day. Talk about a grand entrance!
Speaking of animals, you won't believe 'farm' is a new hot theme too. 'The farmer wants a bride' is another trend-setting novelty wedding style in the true spirit of the reality TV show that's glamourised and revived the whole romanticism of bush and farm life for newlyweds. Apparently there's a whole rage at the moment for farm and field weddings, gorgeous barn themes complete with bride-in-boots hoisted on top a big red tractor (also the wedding car, gasp) by her straw-hatted farmer fiancé. Strictly for lovers of denims, I suspect, and perhaps if you're a fan of friar colours for your wedding attire.
Need the approval of your far too conservative in-laws? Modern wedding cars are still always great. They combine classic elegance with modern styling, performance and technology for a luxurious comfortable ride on the day you have the most jitters!
You may even choose to hire a chauffeur so that you can sit back and relax. These days, red carpet services are commonly for hire to keep your bridal gown safe from filth and tear.
Other things to consider in your budgeting would be how many people require transport. A stretch limousine can accommodate 7-10 and new options to that include the increasingly popular white Mercedes coaches to ferry family members of the bridal entourage. As a quick rule, 3-4 will fit in the classic sedans and 6-7 seater classic cars are great for a larger bridal party.
Don't forget to tie in your wedding colours with the choice of your wedding car. Another good trick to ensure a matching colour scheme is to use your decorations to adorn the wedding vehicle, if you were unable to get the 'hot pink' cadillac you were dreaming of. Classic choices of wedding car colours more widely available are usually ivory white, champagne, silver and black.
Other tips from wedding planners? Ensure you carry large golf umbrellas for unforeseen weather changes, and don't ever forget to ensure your licensed wedding car operator offers a replacement guarantee in the form of a replacement vehicle as similar as possible to your hired one in the event that yours break down on the big day. God forbid. No, no, no, please. Another absolute must is a fantastic wedding photographer to capture your entourage rolling down the street.
May your wedding be made in heaven and the choice of wedding transport celebrate all that your love is, carrying the promises of everlasting hearts and rainbows. Like those weddings I used to pass by and smile about, remembering my own, years ago. Beautiful weddings in the spring time that I've chanced upon as I cruised by, driving along the old gothic St Stephen's Cathedral with its spire-topped sandstone towers and beautiful stained glass windows.
A highlight of my own wedding years ago that I still eagerly look forward to seeing but have not spotted in ages are 'getaway' wedding vehicles declaring "just married" (in a handmade sign) at the rear with a string of clattering tin cans and crepe streamers. I just love the loud rattling noise and clamour of the tin cans, supposedly an old superstition to ward off evil spirits at weddings. Such a great way to bring festive cheer to all your guests who are happy for you and the people in the streets who sometimes wolf-whistle their congratulatory wishes.
Looking to hire the wedding transport of your dreams? Remember your journey together begins with that! For the rest of the ride, call us at 360 Finance to help you with a package tailored to your specific needs in order to help you land all the transport vehicles of your dreams.
Photo Credit | Jaruek Chairak / Shutterstock.com