Transportation is the lifeblood of a working tradesperson. Oftentimes, your vehicle isn't just how you get to your client, it's also where you store your tools and maybe even where you keep some of your records, your professional library and various odds and ends that help you do your job. If you're a tradie looking for a new vehicle, you really have to ask: what can your wheels do for you?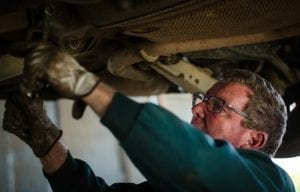 What can your vehicle do?
What Needs to Get Done?
No two trades require exactly the same kind of work, and your ideal car, ute or van will reflect what you need to take with you on the road. For instance, carpenters need to move large loads like timber, furniture and woodworking tools. They might need to haul a trailer from time to time, as well. Electricians' gear is smaller and they don't have to haul so much cargo, but most of their equipment and the things that they work on must be kept safe from the elements.
Essentially, you have to ask yourself what job you need your vehicle to do for you. The carpenter above all is going to need a powerful vehicle with a lot of cargo space that's capable of being hooked up to a trailer, can take a lot of abuse and can possibly even serve as a mobile base of operations. They may also need to be able to attach specialised tools, such as winches, to their vehicles. An electrician might be looking for a mobile workshop with a workbench and a well organised collection of parts and tools.
Once you have a list of your transportation needs down, it's time to pick a vehicle. That's a tough subject in and of itself, so you should read our article "Van, Ute, or Truck?" There, we look in a little more depth into which classes of vehicles are best suited to different jobs.
Beyond Doing a Job: Financial Considerations
Your vehicle isn't just a means of transportation; it's a major business expense. We can help you source car finance and equipment finance, and we can help you find the best deal on the vehicle you've chosen, but you should talk to your accountant before making a final decision. The fact that it's a tax deductible business expense frees up a little capital that can help you grow your business in other ways, too.
Another good angle to think about when choosing a vehicle is how much value it adds. Would a more expensive vehicle that's more powerful, has more cargo space, or can do more than another, cheaper vehicle allow you to land better jobs and make more money? If so, spending more up front would be a wise choice.
If you're a tradesperson in the market for a new vehicle, then you have a lot more on your plate than most car buyers. However, it's not any more difficult; you just have to weigh a few additional factors when making your decision. Just remember: as a tradie, your wheels do more than just move you.