If caravanning is in your plans for 2018, then we have the guide to help you research the best options available to suit your budget and travel style.  We have collated some valuable advice and tips from some of the leaders in the caravan industry plus we will include a range of resources to help you plan your next caravan purchase or holiday.
Caravanning…
the best way to holiday around Australia!
Caravanning has been steadily increasing in popularity in Australia across all age groups in recent years with a 2017 report from the Caravan Industry Association Australia showing a 30.7% increase in Caravan and Campervan sales since 2011. The same report highlighted that in 2016 Queensland was the biggest Caravan loving state – having 26% of the all registered Caravans. NSW on the other hand, had a higher preference for the Campervan (25.7%).  At any one time there are at least 120,000 caravans on our roads and 600,000 registered owners in Australia!
While cashed up 'Baby Boomers' are contributing to the increase in the caravanning market, it is young families looking for economical holidays that are not only fuelling the boom and current trends, but also changing the perception of caravanning away from just being for 'Grey Nomads'.
In our own recent 2017 research, we found that the largest segment to finance a caravan or motorhome in Australia are 36-55 year olds (66%) Married (80%) with Children (62%).  Across all age groups combined we found that the average customer was spending between $35,000-$50,000 on their new asset with 62% of customers purchasing a Caravan and 16% purchasing a Camper Trailer.
Joshua Carnavas, Managing Director from Brisbane Camperland | Jayco  said
"The market is diversifying to meet the changing needs of customers, and we're seeing a rise in the desire for more specialised products such as Hybrids, combining Camper Trailer and Caravan features".
"With families, we are seeing a move more towards Pop Tops and Full Caravans with bunks as their first Caravan, rather than starting out with a more basic Camper Trailer. Campervans are also on the rise which are particularly popular for singles wanting to travel alone or with a friend. They are a great option offering effortless camping and travelling."
With so many options, where do you start!
According to online resource 'Lets Go Caravan and Camping', before you head to dealerships or shows, you should first answer the following questions:
List everything you want, then classify them into 'Must Haves' and 'Nice to Have'.
Consider how many trips you plan to take in the next 2 years (include distances and terrain).
How many people does it need to accommodate?
How much space do you need based on your travel plans?
How much luggage and supplies do you need to carry.
Where will you store/park it? What is the maximum height or space available?
Consider if you want (or do not want) to tow a van behind your vehicle.
If you are considering towing, what is the towing capacity of your current vehicle? (Match the caravan to your car – or consider if you will need a new towing vehicle)
What is more important to you: the 'Comforts of Home' or 'Economy of Light Travel'?
And importantly, what is your budget and how are you going to finance your asset?
Answering these questions should give you more clarity as to the what might be the best option for you.  But what are the differences between ALL of the caravanning options on the market?
So what are the difference between ALL the van styles!
THE CARAVAN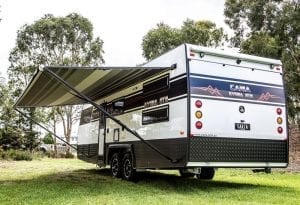 There is no easy way to define a 'caravan' due to the vast range of shapes, sizes and comfort levels that is available in the market today.  Here are the main distinguishing features:
Caravans are towed behind a vehicle
They can be as compact as 3 metres in length or as spacious as 10 metres long
There are off-road variations available to allow you to explore further on rough terrain
Most are self-contained and have many comforts from home to sleep, eat, travel and relax on the road.
Typical on-board features include:
– Shower
– Toilet
– Table & Seating
– Fridge
– Gas Stove
– Microwave
Varied sleeping configurations and bunk bed options
If you have a towing vehicle, the choices are endless in Caravans, so think carefully about what you need.
POP-TOP CARAVANS
A Pop-Top caravan is very similar to a standard Caravan but with a lower height profile.
When setup on-site, the roof section raises up to provide full height standing room.
The main advantages of a Pop-Top are:
The low profile offers improved fuel economy and reduced wind drag while towing
They are easy to store in a standard garage or carport.
They generally have the same features and comforts of a standard Caravan
THE TOY HAULER CARAVANS
(Courtesy of Caria Caravans)
The Toy Hauler Caravan combines living space with storage space for large and small leisure 'toys'.
A Toy Hauler Caravan combines a mobile living space with an equipment 'hauling' space (or as some describe it, a caravan with a mobile garage attached). They range in size and features from large family Caravans with dedicated storage for your equipment; large robust equipment haulers with basic accommodation/living space, down to compact off-road camper trailers. Features include:
Dedicated equipment storage area
Easy clean and robust surfaces
Fold away beds and furniture
Rear ramp
Fixtures and fittings to secure equipment
Learn more by reading our 'All about Toy Haulers' article.
CAMPER TRAILERS & PODS
Camper Trailers & 'Pods', have become one of the most economical and practical ways to go caravanning and often the choice of those wanting to upgrade from camping in a tent to a bit more comfort.
They provide the most compact option for caravanning and storage
They are easy to handle and smooth to tow behind almost any car or 4×4.
They are fast to set up once on-site, and are surprisingly roomy inside
Generally they include compact features such as
– Gas Cookers
– Mini Fridge
– Fold away table
– Sink
– Beds for 2-3 people
These highly affordable options, also come in rugged 4×4 variations that are perfect for remote travel and exploring.
CAMPERVANS
Campervans are often converted transportation vans which have been specifically fitted out for caravanning/camping.
The roofline is often raised higher than a standard van, allowing for standing room and mobility once inside.
They come in a range of sizes, and surprising include a lot of features:
– Long central table & seating
– Cupboards
– Water tank
– Stove
– Fridge
– Beds to accommodate 2-3 people
The added beauty of a Campervan is they offer year round use by doubling as a standard vehicle that requires no special storage space.
MOTORHOMES / RV
Motorhomes or Recreational Vehicles (RV's) are an all-in-one Accommodation and Transportation vehicle and ideal for those that do not want to tow behind a car.
Motorhomes are built on to small or large truck chassis and are very easy to drive
Many do not require any special license or towing experience (except if larger than 4.5 tonne GVM)
The Driver Cab usually includes all of the refinements and features you would expect in a modern car – making them great for travelling.
The Accommodation section of a Motorhome generally includes many if not more of the features found in a standard Caravan:
– Shower
– Toilet
– Table and Seating
– Fridge
– Gas Stove
– Microwave
– Varied sleeping configurations and bunk bed options
Like Caravans, Motorhomes/RV's come in a vast range of sizes, shapes and specifications – so consider first what are you 'Must Have' & 'Nice to Have' features.
5TH WHEELER
The 5th Wheeler, a lesser known option in Australia than overseas, is a combination of a Motorhome and a Caravan where the 'van' is connected to a Trayback Ute via for towing using a turntable for articulated motion.  
A 5th Wheeler is what you buy when a Caravan is just not big enough! You do however need to purchase a suitable Ute with capacity to legally tow a 5th Wheeler (think  Iveco crew cab, Ford F-250, Toyota LandCruiser 70 Series and Ford Ranger Super Cab).
They have a greater turning circle than a towed caravan due to the rotation permitted with the towing vehicle and the coupling connection located over the rear axle of the Ute
5th Wheelers are more stable making the effects of 'caravan sway' and 'side wind' greatly reduced.
Many 5th Wheelers are as large as a Semi Trailer and therefore offer a lot more space and features than a standard Motorhome or Caravan:
– Greater headroom
– Larger appliances
– More storage for luggage and supplies
– Increase number of beds
SLIDE-ON CAMPER
Slide-On Campers are designed to easily convert an everyday ute (either a flat tray or full bodied) into a small RV.
They are ideal and very popular for those who also want to upgrade from tent camping and still be able to tow a trailer, bike, horse float, jetski or boat behind the Ute.
They are compact and basic but surprisingly can include features such as:
– Mini Fridge
– Stove
– Fold out table
– Sink
– 2-3 beds
TENT TRAILER
A Tent Trailer is the most basic of options for caravan/camping and easy towed behind any type of vehicle.
They are ideal for those campers that want to upgrade from a tent to something a little more comfortable.
Generally, they are a box trailer with a tent section that lifts out to make a sleeping compartment with awning attachments – covered outdoor area.
Most tent trailers do not include any features other than sleeping space.
So what now?
Start by referring back to your 'list of considerations' (from above) and identify your timeframe.  Then determine your approximate budget and how you will fund the asset. If you are planning to finance your van, ensure you get a finance quote and even pre-approval before you go shopping, so you know exactly how much you can borrow and then spend – particular if you are at a show and want to grab a 'show only bargain'.
Your local Caravan dealerships are a great place to get the expert and specialist advice you need especially on specific brands they sell.
We asked Joshua from Brisbane Camperland for his top advice for customers:
"The top of anyone's list should be to:
ensure the van they decide on has a Galvanised Chassis and Aluminium Frame to ensure years of integrity in the caravan structure;
ensure the company/brand you are buying offers Australia-wide support (..because a breakdown is most likely to occur while you are on holiday and away from home);
and ensure the floorplan is functional and offers well balance weight for improved tow-ability"
Finally, there are also loads of Caravanning, 4×4 and Outdoor shows/expos on around the country in 2018 that showcase the latest models and accessories on the market.  This is a great place to get a feel for what is out there, but if you are going to pick up a show bargain, make sure you get in early and have your caravan finance pre-approved and ready to go!
____