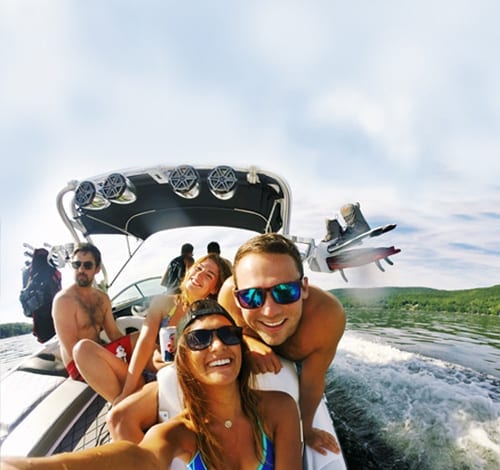 Top Tips for First-Time Boat Buyers
Today's lowest rate is 6.75%
(Comparison 6.75%*)
Looking to buy your first boat? Are you a boat enthusiast, water sport nut or something in between? Then check out our top tips for buying a boat and avoid being overwhelmed by the vast range of options and information out there. So lets' get started in helping you find a boat that's right for you.
Consider the main purpose or use of your boat
According to the 2018 Marina Industries Association Industry report, there are more than 900,000 registered boats across Australia! We also have more beaches in Australia than any other country and what better way to discover them all than by a boat, right? So congratulations on deciding to embrace the boating lifestyle! With 80% of us Aussies living within 100km of the coastline – it is hard not to love the water.
So lets get started…
Firstly, consider what the main purpose or use is for your boat. For example you may want to:
Get into water sports such as waterskiing, wakeboarding or jet skiing
Plan fishing quietly on a lake/river or heading out for some deep sea ocean fishing;
Head out for leisurely weekends or holidays sailing on a yacht;
Relax on a luxury cruiser for weekend day trips with friends;
Another consideration at this stage is the engine setup:
Inboard or outboard motor
Centre-mount for more even weight distribution
Stern drive (I/O) for higher performance
Answering the above will help you narrow down the type of boat or jet ski that will suit your needs, lifestyle and the types of activities you love doing on the water.
'Must haves' and 'Nice to haves'
Once you have decided what you want a boat/jetski for, you'll will need to establish a budget as well as a wish list of 'nice to have' and 'must have' features. Your budget will be key in deciding what features are included; whether you buy a new or used boat and the size and age of boat.
So ask yourself the following questions:
Budget: Consider how you are going to fund the boat purchase. Do you have the funds to pay cash? or will you finance or part-finance the a boat loan? If so – how much you can borrow and what weekly repayments would you be comfortable paying.
Licensing: What licensing, training or registration do you need to own a boat in your state.
Mooring & Running Costs: When doing your budget it is important to also consider possible mooring and running costs. Some boat finance lenders consider these costs to be 25% of the boat value per/annum and may take this into account when accessing your capacity to service a boat loan.
People: How many people will you have on board most of the time? Will you be catering for the entire family or will it just be you and your fishing mate?
Facilities: Do you need a boat to have accommodation, bathroom/shower facilities or storage for long trips?
Equipment: What equipment do you need/want to carry or store on the boat? Fishing rods? Jet ski? Waterskis? Supplies?
Towing: Will you trailer your boat? Do you have a vehicle capable of towing your ideal boat? Do you need any specialised trailers or equipment?
Location: Where will you use the boat? Deep ocean or shallow rivers? If you plan to headout into the ocean or larger waterways, then a bigger boat would be more suitable. Smaller waterways or shallow water requires smaller boats.
Storage: Will you be storing your boat? Do you have space in the driveway or do you need to store and maintain it at a marina or personal dock? What space or cost constraints exist?
Appraisal: Compare the price and value for the boat's year and model. Make sure you perform all the necessary checks to ensure the boat is free from any finance and that it is not stolen.
Visit some Boat Shows
Across Australia there are many Boating, Fishing and Outdoor expos and events on which is a great place to see a range of boats and brands in one spot. This is a great place to start and narrow down what you want. They give you a chance to speak to multiple boat dealers and manufacturers without the pressure to buy! Check out our Events Calendar which list the events on around the country during the year.
Inspection
When you have narrowed down a few boats that tick the boxes, you'll need to organise an inspection. Here are a few simple things to make sure you don't miss anything:
Turn it all on! Make sure all lights and electronics work.
Run the engine: Be sure to get the engine running within the manufacturer's maximum RPM range. Other major components to check are the steering and electrical systems and fuel tank.
Open all lockers and hatches: Check that all hatches, stowage and cabinets are installed properly.
Take a walk around the hull: Look for any cosmetic damage – bumps, cracks, blisters. Make sure to give the inside a once over and check that the electrical system is in good form too.
Test Drive!
Now let's get down to business… you're going to want to try before you buy and see how it handles the water. If the seller is reluctant – then ask why! When you take it out, make sure you take someone with you (other than the seller) for a second opinion – the more eyes the better. Be sure to pay attention to vibrations, response, shifting, reverse, gauges and instruments, and that the bilge kicks in and runs well.
Purchasing your boat
If everything checks out and you are ready to buy, determine what is going to be the best for you financially. If paying cash is not an option, or you only have enough cash for a deposit, then low rate boat finance might be a great solution. Use our Boat Loan Calculator to help you calculate how much you may be able to borrow or what your weekly repayments might be (based on how much you need to borrow). Then, contact a 360 Finance Leisure Finance Specialist who will compare and source your lowest rate finance from over 20 leading Australian Bank & Non Bank lenders.
Don't forget insurance! You might be excited about getting your boat – but don't forget to insure it immediately! Your 360 Finance Specialist can assist with arranging market leading boat insurance with your loan so that you are covered from the moment your loan settles and you take ownership of the boat.
Get pre-approved for finance before you shop.
360 Finance can provide boat finance pre-approved before you going shopping. This will give you an idea of how much you can borrow, what your repayments will be and what boat you can afford to buy. So call 360 Finance today on 1300 361 360 or enquiry online now. Your dream boat might be more affordable than you think.