Your car has become part of the family but you are starting to feel that she is also compromising the safety of your herd. Get those insurance fraud thoughts out of your mind and start a plan that won't get you in trouble with the law.
There are plenty of options when it comes to saying goodbye to your old clunker and if I had known all of these avenues beforehand, I may not have taken the easy route to getting rid of my highly missed 1998 Holden Barina. But before blindly taking your car to the scrap heap, take into consideration that there may still be some value in the old girl.
To get started on your action plan;
Check your registration expiry date. You can claw back any registration costs if you plan to scrap your car, part it out or sell it unregistered.
Gather any documentation relating to the car, including logbooks (if they exist), registration history and any insurance claim paperwork. This paper trail will be very helpful if your car will continue its life after trading it in or selling through a private sale.
Have your identification ready to show proof of ownership before deciding to scrap/trade or donate your car. This may include your driver's licence or passport to match up with your registration papers. Tip: Be sure that these match otherwise what is to stop someone from commandeering your car and scrapping it for pure enjoyment?
Take time to appreciate your car before you part with it. No matter how terrible a car is, people often form bonds with their cars and once it is gone, it's gone!
Let's move on to the point of this article, the top 5 ways to dispose of your unwanted car;
Scrap it and then call us for car finance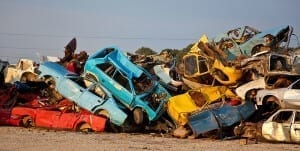 Search Google and you will find a scrap heap of cash for cars websites. Fortunately the process is very easy to scrap your car in Australia and cash is king in the junk yard game. Let's take a step back; do you really want to get bottom dollar for something that still has value?
Over the years governments from Australia, Europe, the US and China have put in place policies that have the intention to reduce environmental impact, boost struggling auto industry sales and to get older gas guzzlers off the road. In Australia, the Gillard government called this the "Cash for Clunkers" scheme which paid road users $2000 for their pre-1995 vehicles should they upgrade to a more "environmentally friendly" vehicle. These traded cars would in turn end up in the scrap heap.
The problem with these schemes was that they may have forgotten to factor in that manufacturing and scrapping a vehicle has a large impact on the environment and often constitutes to a fair chunk of the emissions across a vehicles lifetime.
So before you scrap it, consider the environmental impact and take a look at parting it out.
Part it out and use the money for your car loan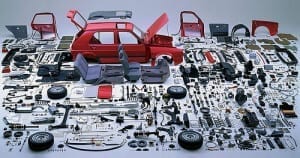 If you are clever with the tools and have a spanner for every nut and bolt in your car, then parting your jam jar out can be more profitable than just taking it to the scrappers. Consider that a new set of tyres start at around the $400 mark, selling these separately could help you get back a portion of your investment. Your second hand engine can bring in big dollars if it has a reasonably low amount of km's on it, common in rear end collision write offs (this is how I purchased my replacement engine). If on the other hand your car is rare or unique then posting your part listings to forums could garner a lot of interest and should bring in more cash than the base cost of the metal alone, cash that you could put towards a low rate car loan from 360 Finance.
This video titled "The most expensive scrap dealer" highlights how all of those parts can add up to a tidy profit.
But hold on a minute, before you spend hours dismantling your car, why not take the easy road and Trade it in?
Trade It In and make sure to sign "Subject to finance"
This was the option that I took for my old tin can, not because I didn't consider the other options, it was just that I didn't know about our next option for parting with your car. The ease of a quick trade made it so enticing and I didn't want the hassle of selling my old car privately.
Advantages :
Hassle free process as you can drive to the dealership with your old car and drive out in your new and improved model on the same day. Remember to always check with a finance broker like 360 Finance before signing up for car finance at the dealership. Always sign "Subject to finance" and make use of your "Cooling off period" to avoid being stung with a high rate!
Caution:
If dealerships have control over how much they will sell you a car for, what finance rate they are going to offer you and the amount that they will give you for your trade in then what is to stop them from adjusting the figures to seem like you are getting a great deal? Tip: Separate the control and you will find that dealerships are good at selling and buying cars whereas finance brokers like 360 Finance are great at organising tailored and
competitive car finance
to suit you.
Sell your car privately online or in the paper
Let's face it; the general consensus is that selling your car privately is going to bring in more money than the price offered for a trade in. If your car is still running and registered then there is a healthy target market of students and backpackers looking to pick up a four wheeled bargain every day.
Making a tourist or young adult happy is one thing but take a step back for a second and consider donating your unwanted car to charity… tax free of course.
Donate your vehicle to charity
Now here is an option worth considering. Donating your car to a charity like Kids Under Cover not only helps keep young kids off the street and under shelter, it makes you feel great and can help you reduce your taxable income (Bonus!). If I had known about this option prior to trading my car in, I definitely would have thought twice about my options. Tip: Be sure to keep your receipt when your car is sold at Auction as this will be your evidence when the Tax Man comes knocking.
So rather than waiting for a tennis ball sized hail storm, rolling your car off a cliff or "accidentally" leaving your windows open with the keys in the ignition, consider one of our top 5 ways for parting with your unwanted car and into a new & improved car with a quick and easy low rate car loan approval today!
Photo credit – Aaron "tango" Tang – Flikr